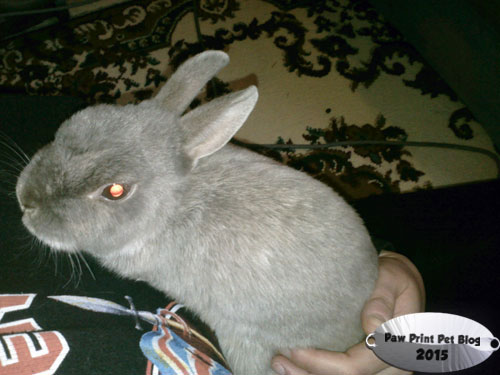 Hopefully you guys aren't getting too sick of me writing about my own pets rather than posting more informative articles.  This just seems like the perfect place to gush about my fur babies.  I think some of my Facebook friends might be getting a tad sick of all my pet posts there.
I really wanted to write a bit about Poppet, and the incredible amount of progress she's made in the almost 5 months she's been with us so far.  If you haven't already, you can read the beginning of her story here.  I don't think you can really tell from the initial pictures I posted of her, but Poppet was very underweight when we first took her in.  There was literally nothing to her but skin and bones.  Her fur hid it well, but when I petted her you could feel every little bone in her body.
When we first adopted Poppet she was so thin, and had been kept in a tiny little enclosure without the ability to move around for so long, that she really didn't have good muscle control.  She wasn't very active, and when she did move around she would often stumble, and sometimes fall.  She loves attention, but petting her, and feeling how bony she was, was just heartbreaking.  How could anyone treat such a cute little critter so poorly?
I think I posted about this briefly, but we had to put Poppet on antibiotics for a UTI.  From what I've been told, urinary track infections aren't all that common in rabbits.  But considering Poppet's living conditions before she was rescued, her getting one wasn't all that surprising.  Luckily the antibiotics did the trick and she's all better now.  Her litter box habits are starting to improve.  Not perfect yet, but definitely better!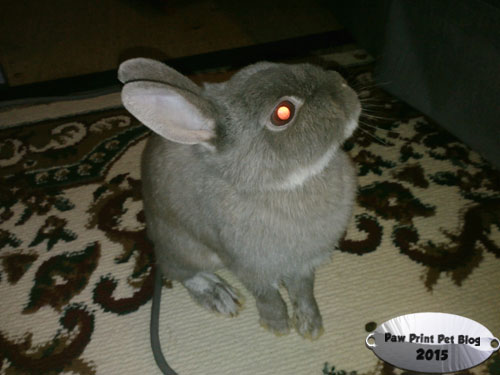 Last night I couldn't sleep because Poppet was being too loud!  I had to make some slight changes to the room my bunnies live in because Poppet figured out a way to get to one of the wires in the room and was attempting to chew on it (it had a cord protector around it so she couldn't chew it, and now she can't get to it at all).  It may sound silly, but it makes me happy that Poppet has recovered enough that she now has the energy to act like a typical naughty bunny!
Last week I saw her binky for the first time.  If you don't know what a binky is you need to look it up on Youtube, because it's guaranteed to make you smile.
Despite being labeled as aggressive at the shelter, Poppet is hands down the friendliest rabbit I've ever met.  When I sit down in the bunny room she literally climbs me, so that she can sit on my shoulder and snuggle against my face.  She gives me kisses, and even bunny purrs (when rabbits are really happy they'll sometimes make a sound with their teeth that is kind of similar to cats purring)!
Barnaby is still completely in love with Poppet.  Besides just being happy about Poppet doing so well, I'm also get to witness how happy she makes Barnaby!
Poppet has kind of weird eyes, and I've found it next to impossible to capture their true color in photos.  They always seem to just glow red, when in real life they are kind of a dark ruby and lavender color.  Hopefully you can get the idea of how cute she is even with her glowing red eyes in my pictures.
Hopefully Poppet will continue to do well with us.  I'll keep you all updated on her progress.