Happy Friday!
Back before the holidays, Kitsune and I posted a review for the November 2014 Pet Gift Box.  Earlier this week, much to Kit's delight, we received the February Pet Gift Box to review.  Despite already having two huge boxes of toys to play with, Kitsune still gets really excited when a box comes for him.  I guess I can't blame him, it's always fun getting mail.  Except for when it's bills, but of course Kit doesn't have to worry about that!  Anyways, I wanted to share what we received in our February box, so if you are interested read on!   

Pet Gift Box, like many of the other pet subscription boxes we've reviewed, includes a little insert explaining what each item included in the box is.  However, the insert in our box this month kind of confused me (it doesn't take much lol).  I guess it seems like a couple of toys listed on the insert were replaced with different things in our box.  I don't know if it was because we were sent a free review box, or maybe the company made some last minute changes and didn't update the box insert?  Either way, I'll talk about what we did get!

First, we got two bags of treats!  The first one, Healthy Balance Chicken Doggie Bites, we couldn't actually test out since Kitsune can't eat chicken.  Having a pet with food allergies can make getting these subscription boxes more of a risk, since there's always a chance you'll get stuff your dog can't actually have, but to me it's never been a huge deal.  Luckily I have quite a few friends with dogs, and we aren't too far away from an awesome no-kill shelter, so I can always find someone to appreciate the stuff Kitsune can't have!  Don't worry, Kitsune didn't have to suffer much because we also received a bag of It's Purely Natural Beef Jerky treats, which Kitsune has been enjoying!
I wanted to point out that, while many of the toys in our Pet Gift Box say they are made in China, both of the bags of treats we got were made in the USA.  I know that's a concern to some pet owners, myself included, and I was glad to see that the eatables at least were made in the US.
Next we got three different toys.  The green guy in the picture above is a Loud Mouth Bird.  I know I've mentioned this before, but Kitsune has just never liked this type of toy.  I really don't know why, but he's never been crazy about latex/rubber/plastic toys.  He'll play with food dispensing toys, like his Kong.  But if it doesn't dispense food, or isn't plush, he doesn't want much to do with it.  Oh well.  I'm going to send Mr. Loud Mouth on to my sister for her dog Kanan.  I'm sure she'll appreciate how loud the squeaker in this toy is!
Next we got a plush ball that looks like a chicken.  I couldn't find this one on Amazon, it's not listed on our gift box insert, and the tag just says "Playful Pet Dog Toy".  I wish I had a bit more information on this one.  When our box got here this toy had quite a few loose strings that I had to pull off of it before giving it to Kitsune.  I'm not sure if it's going to be the sturdiest toy, but Kitsune loves plush balls like this so I'm sure he'll have fun with it!
This last toy was probably the biggest hit in this month's box, at least according to Kitsune.  We got a Long Ear Tuggeeez toy that looks like an orange puppy face with long floppy ears.  It's plush, and has a squeaker, so, you guessed it, it's a hit with Kit.  I'll attach a video below of him playing with it.
Last, but not least, we got a really cute designer Bella Bowl.  It's a nice stainless steel bowl with a rubber ring on the bottom to keep it from slipping around on the floor.  We got a red bowl with a bone design on the side, which is perfect for Kitsune since red is his color.  His Bella Bowl actually goes really well with the food bowl we already had for him.  Now he'll have two bowls, which works out since he'll have an alternate to use while I'm washing his regular one.
I guess it's a little (or a lot) late to get your pet a Pet Gift Box for Valentine's Day.  But hey, I let Kitsune open his gift box on just a random old day and look how much fun he had...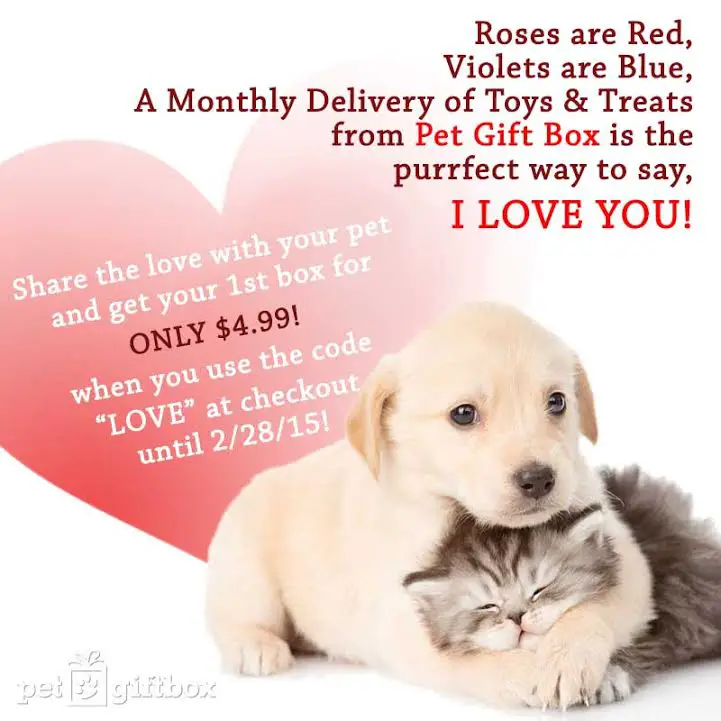 Pet Gift Box is just $17.99 per month if you sign up for a subscription!  Don't worry, if your pet's toy box is looking a little too full and you need a break from monthly goodies, you can cancel your subscription at any time.   A portion of Pet Gift Box proceeds are donated  to America's VetDogs, an organization serving the needs of veterans with disabilities.
If you are interested in trying Pet Gift Box for the first time, they are currently hosting a Valentine's Day promotion!  Use the code "LOVE" at checkout between now and Feb.28th to get your first box for just $4.99!