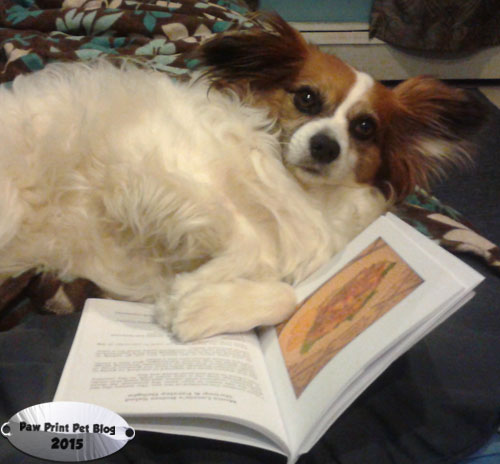 Happy Friday!
I feel bad.  I received a copy of Spaghetti for Sheepdogs quite awhile ago and am just now getting around to posting about it.  Sometimes life gets busy, and unfortunately I haven't had much free time to just sit down and read lately.  If you haven't already, check out the Real Dogs Cook website!  The Chow Network Book Series consists of 8 (I believe) cookbooks written for dogs, by dogs!  We've already introduced Pastry for Poodles, and Barbeque for Bulldogs.  Today I finally had a chance to sit down and read the third book, Spaghetti for Sheepdogs!  For fans of The Chow Network Books, this latest addition doesn't disappoint!
Spaghetti for Sheepdogs was penned by Chef Mona Lassie Buonarroti, a sheepdog with a passion for pasta.  The book features 6 Italian recipes, everything from a lasagna recipe that had my stomach growling, to a pistachio gelato dessert.  Like in the other books in this series, actually making the recipes might be a little confusing as ingredients are measured in amounts such as scoops, paws, and swipes.  But, if you cared to make them, and especially if you already have experience cooking Italian dishes, I don't think it'd be too hard to figure the recipes out.  Plus, you could always ask your dog to help!
I've said it before and I'll say it again, what I really love about these books is the way the 'pup-sonalities' of the chefs really shine through.  The dogs featured in each book so far have each had personalities all their own.  The books are very entertaining, even if you never plan to use them as actual cookbooks.  The are also easy to read, making them great gifts for dog lovers of all ages!
Kit should take a few tips from Chef Mona Lassie!  I'm personally a big fan of Italian food, but this is about the extent of Kitsune's skills when it comes to Italian cuisine...
He's noming a frozen meatball!  See, some chef he is, he didn't even thaw it first.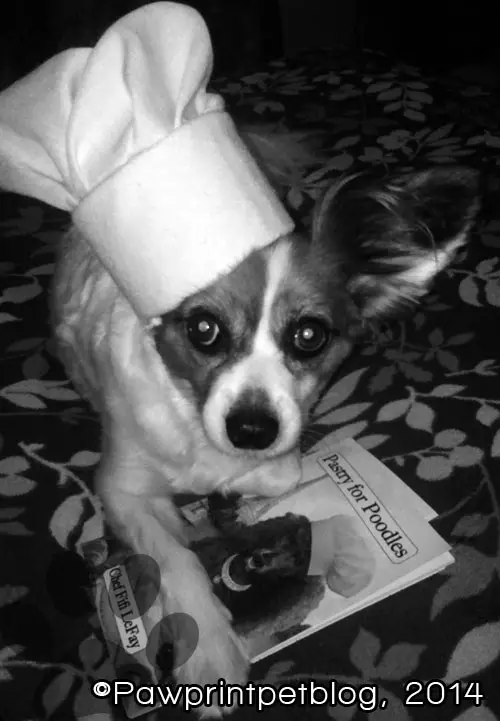 Have your own pet recipes you'd like to share?  Want to discus  your pet's food, or just chat with some fellow animal lovers!  Join us over on the Paw Print Pet Forums!
If you're interested in creating home made treats for your dog, check out Cooking with Canines!  Cooking with Canines features 30 simple, fun, and healthy treat recipes for man's best friend.