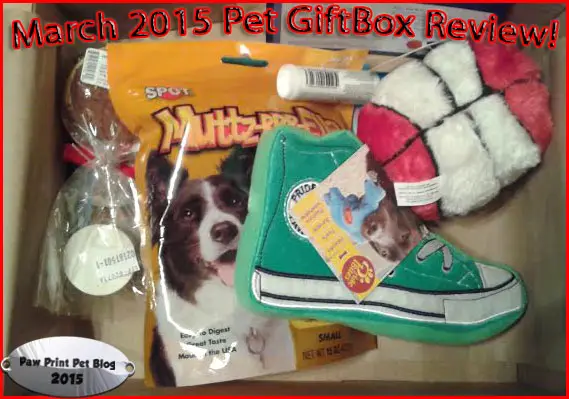 How's everyone's March going so far?  I can't believe so much of it is already over!  I hope that everyone is gearing up for an awesome weekend.  Kitsune had a pretty fun week this week.  I ended up taking Monday and Tuesday off from work.  Monday because it was my birthday, and Tuesday because we had company for most of the day, which Kitsune always loves.  On Tuesday evening his week got even better because his March Pet Gift Box arrived! 
We've reviewed a couple of past Pet Gift Boxes, you can check out our previous reviews here, and here.  We've been having a lot of fun with our boxes!  Kitsune already has sooo many toys, but I love getting the  subscription boxes for him because he just gets so excited when they get here!  The toys he really likes and the treats he can eat we keep, then the stuff he either can't have or doesn't like I've been donating either to our local shelter or to a couple of friends of mine who also have dogs.  So it works out really well, even when we get stuff that's not necessarily perfect for Kit.

Our March Pet Gift Box had a March Madness theme!  I'm not a huge shorts fan but still enjoyed the basketball theme.  Pet Gift Box did an awesome job sticking to the theme but still including a great verity of items in this month's box.  As always, I'll go over all the stuff we got!
Plush Basketball: Kitsune loves loves loves this toy!  He actually has a few other plush balls that he really enjoys, so maybe that's part of why he took so quickly to this toy?  It was the first thing he took out of his box this month.  Yes, he surprisingly grabbed this even before any of the treats!
Pride Bites Hip Sneaker Toy:  I've never seen these toys before.  I couldn't find the sneaker on Amazon but it looks like Pride Bites sells very similar toys in different shapes as well.  These toys are cool because they are machine washable.  They almost feel like they have some kind of foam or something inside?  Kitsune likes this toy, so it's a keeper!
Zukes Power Bones:  We got the beef recipe, so Kitsune can have these.  They are wheat, corn, and soy free, and made in the USA.  The ingredients aren't bad and the treats are a good size to use as training treats.  I've been taking some of these on our walks with us and Kitsune likes them more than chasing cats!  That's saying a lot, he really likes chasing cats.
Licks Athlete: Next we got a sample packet of Licks liquid vitamins.  We got the athlete formula which says it's for active dogs.  I really wanted to give this to Kitsune but I haven't because I'm a bit concerned that it says it contains chicken flavoring.  That wouldn't be an issue for most dogs, but Kitsune is very allergic to chicken so even in small amounts I avoid giving it to him.  Just to be safe I'm going to pass this item on but Pet Gift Box did also include a coupon code for 20% off an online order of Licks.  I might take a look at their other formulas to see if they have any that don't contain poultry.

Fou-Stick Soothe: I thought this was a cool item to include in this month's box.  It's a soothing pet balm that you can use on their skin or paws.  It says it can help to relieve itchy, dry skin and minor irritations.  The product doesn't really have a smell, which might mean that it'd be less likely for pets to try licking it off?  So far I've put a little bit of this on Kit's paws, which are drier than normal from the cold weather and road salt.  I'll definitely be adding this item to our doggy first aid kit.
Muttz-Rrr-Ella Dental Chews:  These probably aren't something I'd normally buy for Kitsune, but they don't contain any poultry, and are made in the USA.  We got a pretty big bag of them, which is awesome, so they should last awhile.  They do have a really strong smell, which Kitsune seems to enjoy.  Kit chews through one of these pretty quickly.  Chewing is a great way to help your pet's teeth.
Hoop Star Biscuit: From The Bubba Rose Biscuit Co., we got a really cute basketball shaped dog cookie.  It's made from organic ingredients, and is wheat, corn, soy, and gluten free.  I'd love to be able to give this to Kitsune but, because it contains eggs, I'm going to send it on to my sister for her dog Kanan.
Kanan's not going to be too impressed with our offerings this month though, the only things we're passing on from this months box are the Licks vitamin sample and the basketball biscuit.  Everything else Kitsune can have, and has been really enjoying!
Want to try out Pet Gift Box for yourself?  Use the coupon code "Kitsune" on the Pet Gift Box website to get 25% off your first box!  Don't forget, we review dog boxes since, well, Kitsune is a dog!  But Pet Gift Box also offers boxes for cats!