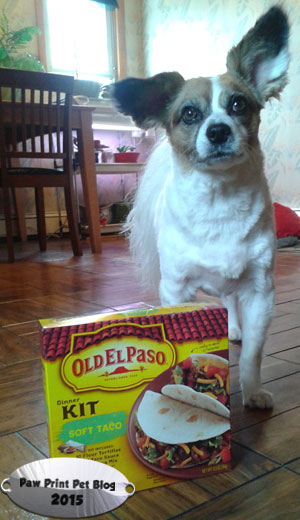 I hope everyone's week is off to an awesome start!
Between reviewing Spaghetti for Sheepdogs on the 6th, the latest Pet Gift Box last Friday, and Tex-Mex for Terriers today, I feel like Paw Print has been a little review heavy as of late.  Entirely my fault, hopefully nobody minds too much.  I got a bit behind on my reviews and am playing catch up now.  I had Spaghetti for Sheepdogs sitting on my desk so that I could read it when I got some free time.  But free time for me is a rare commodity, and before I knew it Tex-Mex for Terriers was here and I still hadn't even gotten a chance to read Spaghetti for Sheepdogs!
But I'm all caught up now!  I have a few items in the mail that I'll be reviewing once they get here and I get a chance to try them out, but I should be able to space those reviews out more instead of doing them all in a row.
Anyways!  I had the day off from work yesterday so I got a chance to sit down and read through The Chow Network's latest book, Tex-Mex for Terriers.  This book, along with the other 3 in the series, is currently available in both ebook and paperback formats on Amazon.
If you haven't guessed from the picture of Kitsune with a taco kit, we're fans of tex-mex food here!  I haven't actually tried making any of the recipes in The Chow Network books yet, but if I did I'd probably try one from this book.  Chef Terry Scraps is just too cute!  I love his mismatched eyes.
In this book Chef Scraps will walk you through creating a full three course tex-mex meal.  How about some of Terry's "Not Just Nachos!" to start off?  The Turntable's Famous Tex-Mex Taco Grande tacos would make a great main course, and the Caramel Apple Flautas make a perfect ending to a perfect meal!
There aren't a ton of recipes in this book (there are 6), but IMO these books are more for entertainment than to be used as actual cook books (although, perhaps with a little help from your dog, you probably could create the recipes).  And entertaining they are!  The books are a great if you ever need a quick pick me up, and I think they'd be a fun read for dog lovers of all ages!