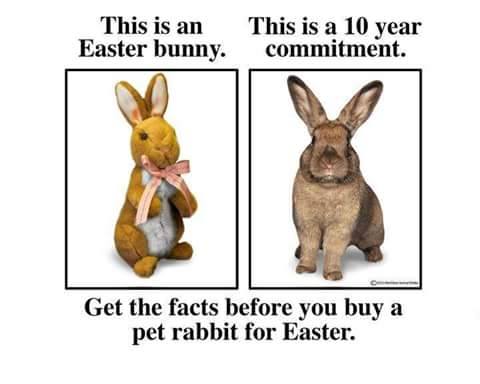 I'm not going to harp too much on this topic this year.  Well, maybe just a little bit.  Although my blog focuses more so on my amazing dog Kitsune, as well as dogs in general, my first pet was actually a house rabbit.  I may not talk about them as much as of late, but rabbits will always be near and dear to my heart.  My life has gotten pretty hectic, and I haven't been as active in the rescue scene as I used to be, but anyone who's even a little bit interested in rabbit rescue knows that this is a horrible time of year for pet rabbits.  A huge percentage of rabbits who are given to children as Easter gifts end up abandoned, sometimes as soon as just a few weeks after the holiday.
Social media, mine at least, has been all abuzz with images to raise awareness of the plight of the unfortunate "Easter bunnies".  I'm hoping this is something that's becoming more mainstream knowledge, and not that I'm just seeing a lot of it because of my very animal/pet centric social circles.  I totally agree that the message of not giving pet rabbits as Easter gifts is a very important one!  But, this year, I can't help but feel sad when I see all the images to raise awareness about this issue.  And it's not only because it makes me think of homeless rabbits.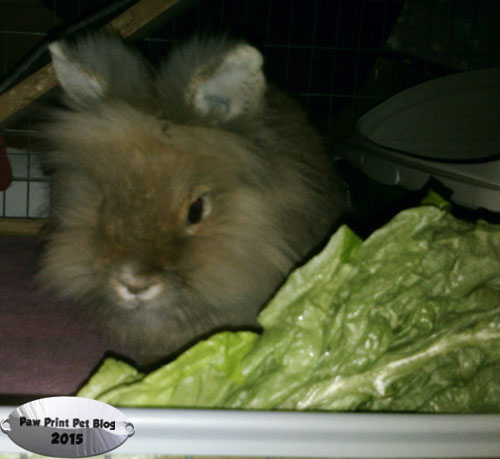 My little guy, Barnaby, will be 9 years old this year.  As I scroll past image after image stating that rabbits are a 10 year commitment on my Facebook page, I can't help but think that I wish they were much, much more than a 10 year commitment.  Barnaby is still active, and very healthy, but now that he's a senior, I've found myself having to deal with things that have really made me think more about his mortality.  We've recently started him on joint supplements, for example, to hopefully stave off the onset of arthritis and keep him limber in his old age.
The oldest rabbit listed in the Guinness Book of World Records lived a few weeks past his 17th birthday.  The average lifespan of a house rabbit, however, is normally somewhere between 8 and 12 years.  I guess all I can do is hope that Barnaby will go for the record, and enjoy many many more happy years here with us.
He certainly has a lot to live for, now that he's bonded to Poppet.  Barnaby has always been a really healthy rabbit, but adopting Poppet back in September really seemed to increase his zest for life.  Since they moved in together, he's been more active, has seemed happier, and has even seemed to get a bit friendlier.  Even after 8 years of doting on him, Barnaby was never a very friendly rabbit.  But Poppet is amazingly friendly, and perhaps she's serving as a positive influence for Barnaby.
Rabbits, even the unfriendly ones, can (in my opinion at least) make amazing pets for the right people.  Let my Barnaby be a living example that they really are a long term commitment, and adding one to your family shouldn't be something taken lightly.  Rabbits are not low maintenance pets.  They require vet care, by specialized rabbit vets, which can be even more expensive than your typical cat/dog vet.  They have some very specialized needs, especially when it comes to diet, and they are generally not cuddly animals.  Despite all this, I'm sure I'm far from the only rabbit owner who thinks that 10 years isn't nearly long enough to spend with one of these amazing animals.
Other rabbit themed posts you might find interesting: