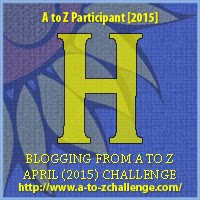 I feel a little bit like I've been dwelling over Haku since he got sick and passed away.  I know I posted about him quite a bit while he was sick, and at least a few times since his death.  Despite the fact that he's been gone for almost 7 months now, here I am posting about him again!
When I got to H in the A to Z challenge I just had to write about Haku.  I wish I were writing about him in different circumstances, that he was still with us, healthy, and enjoying the nice spring weather along with his mate, Aurora, and daughter, Miyuki.  Alas that isn't the case, but in a small way he is back with us again.  I finally got around to ordering and setting up his memorial frame.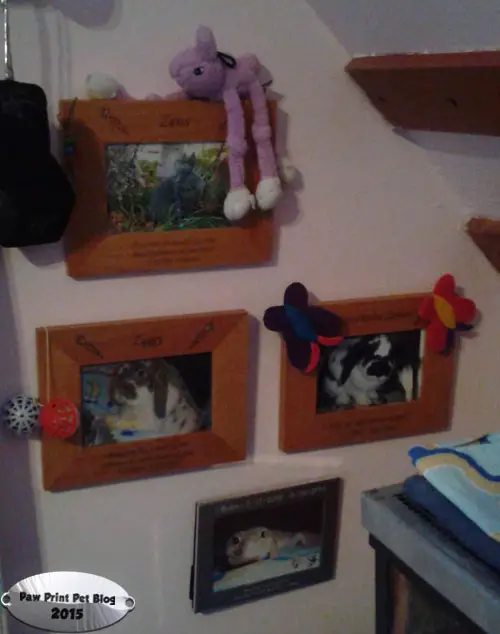 I don't normally keep my pet's ashes after they pass.  But I do have a little memorial area for all my pets who aren't with us anymore.  When my first house rabbit, Zeus, passed away, I kept a small clipping of his fur and framed it, along with one of my favorite pictures of him.  I had his frame custom made, so it has his name and a nice quote engraved on it.  Over the years, when others have passed, I carried on the tradition.  I usually also keep any toys or little trinkets that remind me of the departed pet, and put it near their picture.
It took me awhile, but I finally added Haku to my pet memorial wall.  I got him a silver frame with his name and dates on the top.  The quote on the bottom is from Tolkien.  In case you can't read it in the picture, it says "So comes snow after fire, and even dragons have their endings".  I spent a long time trying to find a quote I liked for Haku's frame, and just kept coming back to that one for him.
Since Haku obviously didn't have fur that I could take a clipping of, I also framed his little paw prints.  I took prints from him back in 2013 for this post, and kept them tucked away since then.  I think now I'm going to have to make prints of Aurora's and Miyuki's paws too, just so I have them.
Although it seems like creating a memorial would be a sad thing, it actually made me happy to put a picture of Haku up where I can see it everyday.  Even though it's just a picture, it was nice remembering how he was before he got sick.  Keeping pictures of my departed pets makes me feel like, in some small way, they can continue to be apart of our lives.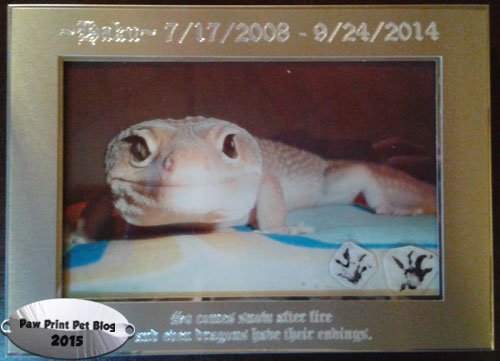 I know to non-pet people, or even to people who just have pets like cats and dogs, all that probably seems like a lot for such a tiny little lizard.  But all my pets, no matter how small, are a part of my family.
Have you ever lost a pet?  Do you do anything special to honor your pets who have passed?  Comment below!