Today is the last day in the A to Z challenge that I'm going to be able to write about one of my current pets.  Little Miss Poppet is my only pet left who I haven't written about during the challenge yet.  Poppet also happens to be our newest addition.  She's only been with us for about 8 months so far, although she fit in so well here that it feels like she's been with us forever!
I first introduced Poppet on my blog in October of last year.  She originally started out as a foster rabbit!  Poppet was found living in a really small aquarium, basically in her own filth.  She was confiscated by animal control and brought to a shelter, where they tried to clean her up as best they could, but the shelter she was in was more experienced with dogs/cats and not so much bunnies.  Poor Poppet was really scared, who can blame her, and was labeled as aggressive because she was lunging at people out of fear.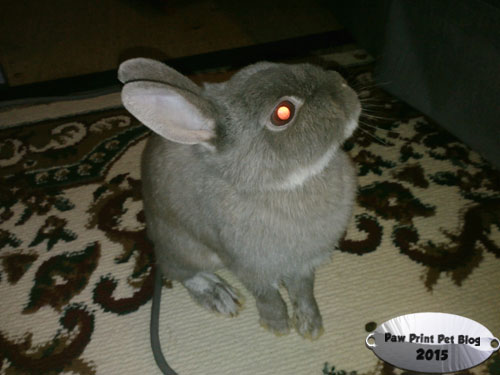 My poor baby also wasn't eating much, probably because she was extremely stressed.  The shelter put out a plea looking for a foster home for Poppet (who was unnamed then) and determined that if they couldn't get someone to take her, they would have to put her down.  She was just miserable at the shelter, and wasn't making things easy on the staff there.
A friend of mine who volunteers for a rabbit rescue in the city heard about Poppet, and when I was first approached about fostering her I said no!  But for some reason I just couldn't get her out of my head, so she was spayed and a few days later I made the journey into the city to pick her up.
The rest is pretty much history.  I think she was officially a foster for about 5 days before I signed the paperwork to adopt her.  This 'aggressive' little bunny turned out to be literally the sweetest rabbit I have ever met - and I've met a lot of rabbits!  She loves attention, and even has this funny habit of climbing me so she can sit on my shoulder and snuggled herself up against my face.
Poppet very quickly bonded with my other rabbit Barnaby, so the two of them live together.  It works out because Barnaby is shy and doesn't really like humans, but he adores Poppet.  Poppet loves the attention he dotes on her, and I'm happy knowing that she's getting the attention she so loves even when I don't have time to snuggle with her 24/7.
Poppet is, I guess, pretty common looking as far as rabbits go.  She's small, under 3 lbs, and the vet estimated her to be around 3 years old.  We think she might be a Polish rabbit, or possibly some type of dwarf mix.  She's very dainty looking despite the fact that she's gained quite a bit of weight since coming to live with us - she was just skin and bones when she got here.  She has really pretty eyes.  Unfortunately I can never seem to show what they look like in photos, but they are lavender colored.
Poppet started out as a nickname for her until we could name her, but ended up sticking as her name.  For short I sometimes call her Poppy.