I told you I found a way to sneak a review into the A to Z blog challenge!  My puppers Kitsune received his April Pet Gift Box earlier this month and has been really enjoying the toy and treats he got.  Pet Gift Box has been doing awesome with their themes lately.  I wrote last month about how much we enjoyed their March madness box.  This months box had a Eco friendly theme, in honor of Earth Day (which is tomorrow).  My regular readers probably already know this, but I am a big fan of Eco friendly pet products!
The insert for this months box even included tips for living green with your pet.  What an awesome way to help spread the word about caring for your pet and the environment at the same time!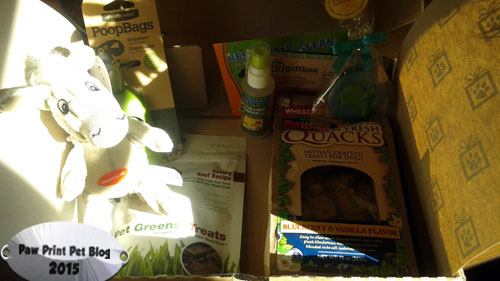 We got some awesome products in this months Eco friendly box!  Hopefully you can see them all, for the most part, in the picture above.  I didn't take individual photos of all the items this month, but this is what we got...
Bubba Rose Biscuit Company Earth Day Cookie: This was really similar to the basketball cookie we got in our March box - it's even from the same company!  The treat was made in the US with local, fresh, organic ingredients.  The cookie this month was adorable, designed to look like a globe, but contained eggs so Kitsune couldn't eat it.  I ended up giving this to one of my friend's dog, and he enjoyed it very much!
Absolutely Clean Pet Stain & Odor Remover: Next we got a 2oz bottle of Absolutely Clean Pet Stain & Odor Remover.  I love love love green cleaning products!  Normally I just use vinegar to clean up any pet mishaps, it's cheap and works well.  But once in awhile I do splurge on green, nontoxic cleaning products, mostly because I hate the smell of vinegar!  I received a little insert with this product that explains that the small bottle can be watered down to make a multi-surface cleaner,  used in a carpet cleaning machine, used to clean a verity of items from clothing and sneakers to grout and barbecues, or just used directly to spot treat stains on carpet or upholstery.  Pet Gift Box also sent me coupons to use on the Absolutely Clean website.
Earth Rated Leash Dispenser with 15 Lavender Scented Bags:  Call me crazy, but this was my favorite item in this months box.  And it couldn't have gotten here at a better time, because I ran out of our regular poop bags literally about 3 hours before our gift box showed up!  What dog owner doesn't need poop bags!?  I love that the dispenser has a hook on the back that you can hang the full poop bags on, to free up your hands during walks.  The adjustable strap makes it so you can attach this bag dispenser on practically any leash, even to the handles of extendable leashes (I know, I know, but we like to use our retractable leash at the park).  The bags have a pleasant lavender scent.  The packaging didn't say whether or not the bags themselves are biodegradable, but I do know that the packaging is made from recycled materials.
K9 Granola Factory Treats:  Next we got some blueberry and vanilla flavored treats from K9 Granola Factory.  I couldn't find the blueberry and vanilla flavor on Amazon so I linked to another flavor.  When I first saw these treats, I thought that maybe Kitsune wouldn't be able to eat them because they said "Oven fresh Quacks" on the front.  I guessed that maybe they contained duck, but it turned out that they said that because the treats themselves are shaped like cute little ducks!  They don't contain any meat, or eggs.  They are wheat, corn, and soy free, and made in the US.  Kitsune has been enjoying these.
Pet Greens Jerky Style Treats:  More treats!  Kitsune loves these savory beef recipe jerky treats.  I love that they are grain free, and made in the US.  We've been taking these to the park with us to use as training treats.  You know they must be pretty tasty if Kitsune would rather behave for a treat than chase a squirrel!
PetLou Naturally Twisted Critters:  I saved this one for last because I got a video of Kit playing with his new toy!  The toy I linked to is very similar, just a different animal.  The one we got in our gift box looks like it's a donkey.  It has a squeaker, which makes it an instant hit with Kitsune, plus also makes a crinkle sound, has unique fabric textures, and a tail made out of sisal rope.  Watch the video below to see how much Kitsune loves his new toy!

Interested in learning more?  You can visit our list of pet subscription boxes, and check out Pet Gift Box on their website, or on Facebook.  You can also go back and read some of our past Pet Gift Box reviews here, and here.  We've received a couple of Pet Gift Boxes now and Kitsune has really enjoyed them all!  If you do decide to try out Pet Gift Box for yourself, you can use the coupon code "kitsune" during checkout to get 25% off your first box!
**Disclaimer:  This post is sponsored by Pet Gift Box.  We received April's Pet Gift Box free of charge in return for our honest review.  As always, Paw Print Pet Blog only shares information we feel is relevant to our readers.  This post contains affiliate Amazon links. **