After today, there are just 7 more posts left in the A to Z challenge!  I hope that everyone has been enjoying our entries so far - I know we've been having a blast writing them!
Today I want to tell you about an app that makes it easy to help save shelter pets.  It's called Walk For A Dog and it's currently available for Android and iphones.  The app's not new, but it's relatively new to me.  I originally found it a couple of months ago, but it wasn't compatible with my old phone.  I recently (finally) entered the 21st century and got an updated phone.  I downloaded the Walk For A Dog app last month and have been really enjoying it since.  It keeps track of the distance you walk, your MPH, how long you spend walking, and shows a map of your route.  It's awesome if, like me, you're trying to keep healthy and want a way to track your walks.  But what makes it really special is that the app lets you select a shelter to walk for, and your selected shelter receives donations for each mile you walk!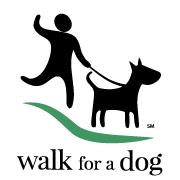 The app generates money from adds, investors, and sponsorships.  The list of shelters you can walk for is extensive.  I selected the animal shelter that works within the city I live in, but you don't necessarily have to do the same.  You can select any shelter from the list, even if they're not local to you.
This app is awesome if you have a dog!  I mostly use it when Kitsune and I make our (almost) daily excursions to our local park.   But spending an hour at the park isn't a requirement, of course!  You can use the app during any walk, no matter the duration, and you don't even have to own a dog!  If you walk a lot, but don't own a dog, you can select the option to "Walk for Cassie" when you sign up, or create a dog as a walking companion even if you don't own one.  Maybe that dream dog you've always wanted, but it's never been the right time?  Or perhaps a silly dog that you'd never own in real life.  You can make jokes about your imaginary dog.
Since March 24th Kitsune and I have walked a total of 62.67 miles.  Walk for a Dog donates to the shelters in its database twice per year.  You can keep up to date with news about the app by visiting their Facebook page.  If you try it out, be sure to tell your friends!  The more people walking for an individual shelter, the more donations they get.
I've been trying to get a bit healthier and part of that process has been attempting to exercise more.  I've found walking/hiking with Kitsune to be my favorite form of exercise.  It combines two things I really love - Kitsune, and spending time out in nature.   I know that there are other apps that can track your daily walk stats for exercise purposes, but I really love that this one donates to help save rescue pets!   What's not to love?  The app has worked really well on my phone so far.  I can use the information it tracks to estimate how many calories I burned.  Kitsune loves his daily walks even more than I do, and we're helping shelter pets!