Whew we made it!  Today is the last day of the April A to Z blog challenge!  Thank you so much to everyone who's visited my blog during the challenge, left comments, or visited us on social media.
I thought it would be fitting, on the last day of the challenge, to post about Zeus.  I know I've mentioned him, at least in passing, here before.  But Zeus' reign begun and (sadly) ended before I started Paw Print, so I haven't written about him too much here.  Zeus was with us for only two years, he passed away in August of 2008.  Despite him being gone for over 6 years now, I still think of him sometimes.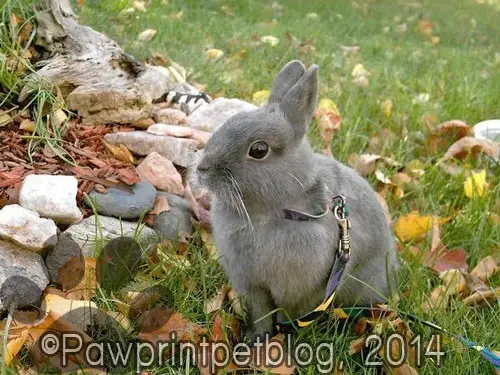 He looked very similar to one of my current rabbits, Poppet.  Zeus was a blue (gray) colored Netherlands Dwarf who tipped the scale at a whopping two pounds!  My fiance and I bought him at a pet store.  I know, I know – but we both just fell in love with him and couldn't resist bringing him home.
Despite his small size, he had a huge personality.  I remember when we first brought him home we thought he'd be nervous in his new surroundings, but one of the first things he did was jump up into my fiance's face to try to steal a piece of coffee cake, right out of my fiance's mouth!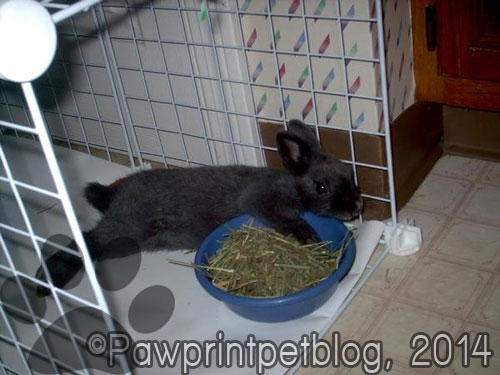 Zeus was with me while I completed my junior and senior years of college.  My life was a bit crazy back then and I moved around a lot, but Zeus was always by my side, and never seemed to mind all the traveling.  Zeus and one of my current rabbits, Barnaby, were actually best buds.  I originally adopted Barnaby because I wanted Zeus to have a rabbit companion to spend time with while I was busy with my classes.
Zeus was very very hyper and was always getting into trouble.  He was a lot of fun!  Sadly, he passed away when he was just 2 years old.  He developed a lump on his throat.  We took him to the vet and they wanted to try to remove it, but my Zeus died during the surgery.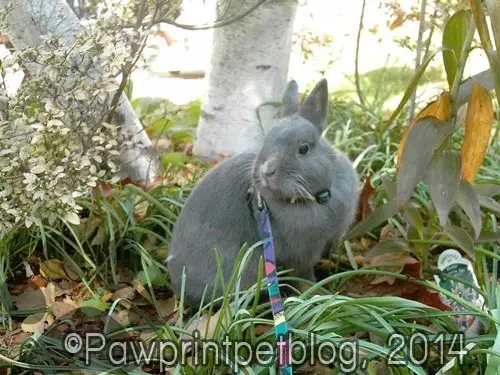 I keep a picture of him, and a lock of his fur, framed as a memorial to him.  I think I've been thinking of him a lot lately especially since Poppet does remind me a bit of him.  If it wasn't for Zeus I probably never would have adopted any of my other rabbits – Barnaby, Ziggy (RIP), Berry (RIP), or Poppet, or spent the time I have working with rabbit rescues.  So all my other rabbits, and the rabbits I helped find new homes for, got better lives all thanks to Zeus.
Comment below!  How have some of your past pets touched or changed your life?