Happy Friday!  While I'm at it, happy May as well!  Is it strange visiting here and not seeing a new post from the A to Z Challenge?  After posting almost everyday in April, I was considering taking a few days off.  But I was so busy posting challenge posts in April that I got a bit behind on some product reviews I've been working on.  Kitsune and I received Pooch Party Packs April dog box in early April, and I'm just getting around to posting about it.
By now you all probably know how much fun Kitsune has whenever we get a subscription box to review!  This one was no different.  For anyone who's interested, we actually updated our list of pet subscription boxes yesterday.  I love the theme of Pooch Party Packs.  What pup doesn't want to party as much as possible?  These boxes come in three sizes (small, medium, and large) and 'party plans' start at $34.99 for one box.  You do get a bit of a discount if you sign up for either a three or six month subscription.  Without further ado, I'm going to tell you about what we got in our April box.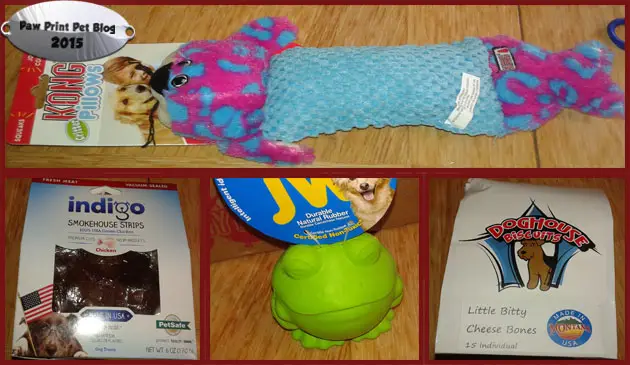 Good stuff!  First off we got Indigo Smokehouse Strips.  The bag we got was 6 oz and not the 12 oz like on that Amazon link, but even the 6 oz bag is a pretty good size.  Unfortunately I can't tell you if Kitsune enjoyed them or not because they're chicken treats (he's allergic to chicken), but they are made in the USA and don't contain any by products.
Next up we got Darwin the Frog, by JW.  He's a really cute green rubber frog.  The tag says he's durable and certified non-toxic.  Unfortunately this little guy was also a miss with Kitsune, as he really doesn't like rubber toys for some reason.  But the toy seems to be high quality and I'm sure many dogs would really enjoy it!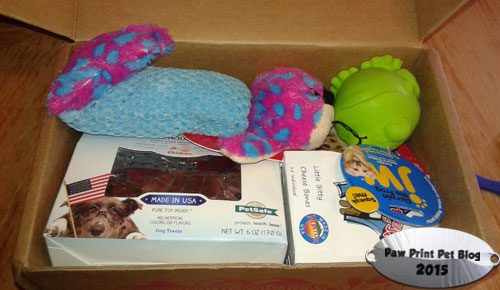 We also got Doghouse Biscuits.  They are made in Montana and are cheese flavored.  These Kitsune can have, and he seemed to really enjoy them!  I like they they don't contain any refined sweeteners, chemical food colorings, or preservatives.
Last, but not least, we got a Kong Critter Pillow.  Now this is Kitsune's kind of toy!  It's plush, has squeakers, and is perfect for playing rough, or cuddling up with after a hard day's play.
Despite not being able to use two of the four items for my own dog, I was still impressed with our Pooch Party Pack!  It's not the companies fault that my dog has food allergies and is super picky about his toys.  If you have less picky pooches, or maybe even multiple dogs, I think this box would be great.
If you want to check it out for yourself, use the code "MOTHER20" up until May 10th to get 20% off your order!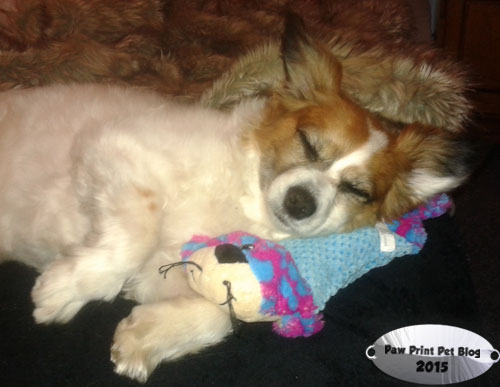 **Disclaimer:  This post is sponsored by Pooch Party Packs.  We received April's box free of charge in return for our honest review.  As always, Paw Print Pet Blog only shares information we feel is relevant to our readers.  This post contains affiliate Amazon links. **