Do you allow your pet(s) to sleep in bed with you?  Kitsune has a couple of beds of his own throughout our apartment, but usually prefers to sleep in bed with us.  The rabbits don't have access to our bedroom, but it's not a rare event when I fall asleep on the couch in their room.  Poppet will often jump up on the couch to snuggle with me, and rarely Barnaby will as well.  To some people, allowing pets on the bed is taboo.  But if you're like me, and enjoy snuggling up with your furry companion at night, you might enjoy the book Cat Naps & Doggie Snorts: The Joy of Sleeping with Critters by Francine Brevetti.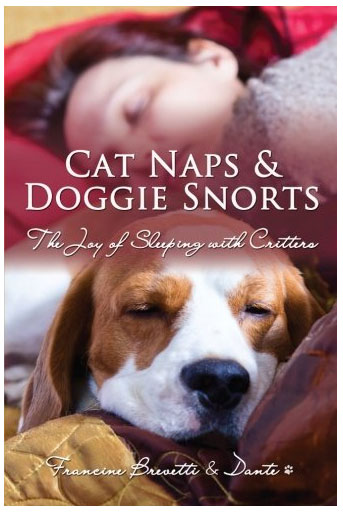 The book is a collection of 75 stories about humans and pets who share their bed at night.  Although each individual story is short, an average of a page or two long, the book in total is over 100 pages.  I read this book rather slowly, a story or two at a time, before bed at night.  Usually by the time I crawl into bed, I'm pretty exhausted.  I like to read before bed, to help me unwind from the day, but am often times just too tired to power through a chapter or two of whatever novel I'm currently working on reading.  I don't like closing a book mid-chapter, as that can sometimes make it a bit harder to pick up where I left off.  But the short stories in this book are perfect for reading before bed!  Whether you just want to read one, a couple, or half the book, since each story is individual it's really easy to close the book at any point and pick it up again later.
The book has a few black and white images, and cute quotes about animals interspaced between some of the stories.  I think the biggest draw is just that it's a cute, relaxing book about animals.  It's great for animal lovers, especially if you share your bed with your pet and can relate to the subjects of the stories.  I'll be honest, a couple of the stories did make me cringe a bit, such as one about a snake who was allowed free range of an apartment and eventually crawled into a radiator pipe and died.  But all in all I did find the book to be enjoyable.
Just a note that I've been referring to the book as having stories, but each story is actually a real account of pet owners who share their bed with their animal companions.  Most of the stories feature cats and/or dogs, but there are a few that are about more exotic pets.
If you've read this book comment below and let me know what you thought!  Do you sleep with your pet at night?  Are they as big of a bed hog as my Kitsune is?
** I was not compensated for this review.  I did receive a free copy of the book Cat Naps & Doggie Snorts: The Joy of Sleeping with Critters in exchange for my honest review.  All opinions expressed are my own and Paw Print Pet Blog strives to only share content we feel will be relevant to our readers.  This post contains affiliate Amazon links. **