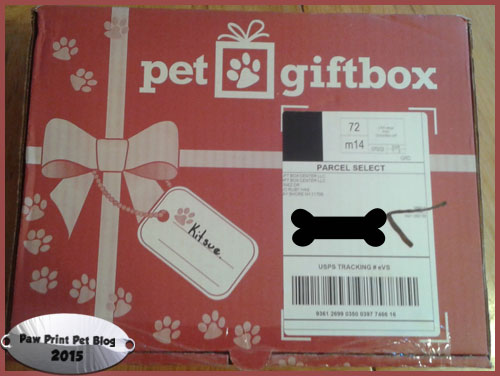 Happy Memorial Day!  I hope everyone is enjoying a nice day off.  I know we sure are!  I thought it'd be fitting to post our May PetGiftBox review today because this month's box was Memorial Day themed.  Not only were the items Memorial Day themed, but the box also included a pamphlet on America's Vet Dogs, a nonprofit that helps disabled veterans and service members by teaming them up with trained assistance dogs.  Each PetGiftBox purchase helps to support the important work done by America's Vet Dogs!
Kitsune love love loved this month's box!  He is pretty obsessed with the toys he got.  I think I said this same thing last month, but PetGiftBox has been doing an amazing job on their themes lately.  Like usual, I'll go over what he got in his May box.

Pawtriotic Cranberry Dog Treats:  He got a big (16 oz) box of these Pawtriotic Cranberry treats!  They are all natural, made in the US, and come in fun patriotic shapes.  The treats are a good size, bigger than what I'd normally use as training treats, so I've either been breaking them into smaller pieces or giving them to Kit for his before bedtime snack.  He seems to be enjoying them, which of course means that they don't contain any ingredients that he's allergic too!
America's Vet Dogs Soft & Moist Treats:  I couldn't give these to Kitsune because they contain chicken, but of course that's not PetGiftBox's fault.  They look like they'd be a good size to use as training treats, and they help support America's Vet Dogs!
Patriotic Car Magnet by Imagine This:  Next we got a cute car magnet that has a paw print in front of an American flag.  It's a good size, cute magnet!  We don't currently have a car (weird I know, but we live in the city and don't really need one) but one of the first things I did after we opened this month's box was stick the magnet on our fridge.  So I guess it will serve as a fridge magnet for awhile until we get around to getting a car!
U.S. Army Bear Recruit Toy:  I couldn't really find this adorable little bear for sale anywhere online which is kind of unfortunate, because it's so cute and Kitsune absolutely loves it!  Luckily he's pretty gentle with his plushies and this toy seems to be very well made, so it should last him a long time.  The quality is so good that if it didn't say "dog toy" on the tag I think it could easily be mistaken for a child's toy.  Oh, and it has a squeaker which of course makes it a hit with Kitsune, and it's Eco-friendly which I love!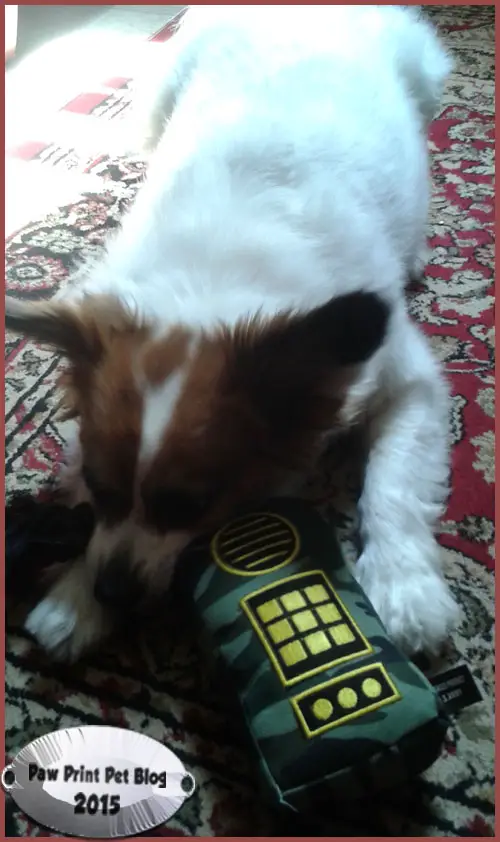 U.S. Army 'In the Field" Toy:  This toy, like the bear above, is licensed by the US Army.  They both have tags that have the link to this website, but it's a wholesale site so you can't purchase individual items from them.  Anyways, this toy is shaped like an army walkie-talkie and also has a squeaker.  Kitsune has been having a lot of fun with this toy as well!  It has a rope on one end that he likes to hold onto so he can shake the toy around.  It's really cute.
Sorry, no videos of Kitsune enjoying his new toys this month.  Work has been giving me a lot of extra hours lately and after working on the computer all day, I usually need a break from staring at a screen.  So I haven't gotten around to editing any videos lately.
Thanks for reading!  As far as I know, you can still use the coupon code "kitsune" while checking out to get 25% off your first PetGiftBox!  If you decide to check them out, let me know what you think!  Kitsune has been really enjoying their boxes.

**Disclaimer:  This post is sponsored by PetGiftBox.  We received May's PetGiftBox free of charge in return for our honest review.  As always, Paw Print Pet Blog only shares information we feel is relevant to our readers.  This post contains affiliate Amazon links. **