Hello!  I hope everyone had an amazing weekend, and not too much trouble falling back into the weekly routine this morning.  I've been slacking a bit posting about The Chow Network book series.  The last time I posted about them was back in March, and I've gotten three more books from the series since then!  Since I'm a bit slow, you can always keep up with the Real Dogs Cook gang by visiting their website, and their books are available on Amazon!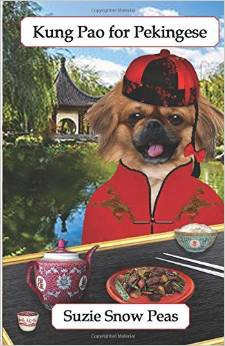 Last week I finally had the chance to sit down and check out Kung Pao for Pekingese, by the adorable Suzie Snow Peas.  This book is just as adorable as the 4 before it.  It features 7 (if you include a recipe for mustard-soy sauce) recipes.
I'll be honest, so far I haven't actually attempted to create any of the recipes in these books.  The measurements are written in 'dog units', so instead of cups, teaspoons, etc, you have things like scoops, paws, and cans.  This book does have a measurement conversion page, but I'm not entirely convinced it'd be all that helpful (1 paw = 2 swipes is one of the conversions, for example).
But that's ok!  Most of the recipes seem simple enough that, if you have even a little bit of talent in the kitchen, you'd probably be able to figure them out.  Eventually I'm going to have to actually try to recreate some of the recipes in these books!
Even if you're not overly interested in trying to create the culinary delights featured in the books, they are fun and easy to read.  They are each under $10 on Amazon, and I do think they'd make great gifts for dog lovers of all ages!
** We received a copy of Kung Pao for Pekingese free in exchange for our honest review.  As always, Paw Print only shares content we feel will be of interest to our readers.  This post does contain affiliate Amazon links.  See our "Legal Stuff" page for more details.