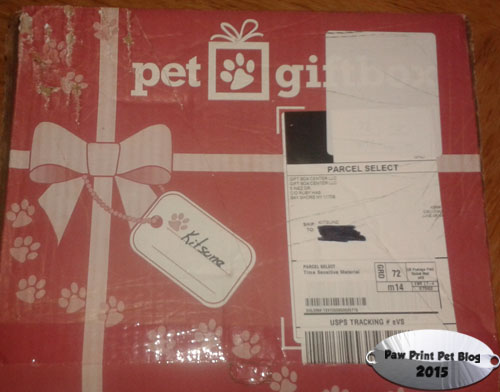 We got sooo much mail last Saturday.  We were waiting for a few packages, mostly stuff we ordered on Amazon, and then on top of them getting here Kitsune got his June Pet Gift Box!  Perfect timing - Kit had something fun and new to keep him occupied while us humans got some home improvement projects done.  Take a look at the video at the bottom of this post and you can see just how excited Kitsune gets when his boxes get here!
By the way, our Pet Gift Box didn't come all scratched up like that - that was from Kitsune trying to claw his way into the box!

Without further ado, I'll share what we got in our box this month.  The theme was "Jurassic Bark".  I know I've been saying this every month now, but Pet Gift Box has been doing a great job at picking their box themes each month.
The box insert said that the total value of this month's box was $34.96.  Subscription prices range from $27.99 to just $17.99 a month, depending on what plan you select.  This is what we got in our June box...

Prehistoric Plush Pals: We got two plush dinosaurs - a T-Rex and a Stegosaurus.  At first I though that Pet Gift Box had accidentally sent us two plushies by mistake!  But I did some sleuthing and it looks like other people who got small dog boxes got two dinosaur toys as well.  Kitsune's been having a lot of fun with these.  It didn't take too long for our T-Rex to get a hole in one of his legs, so these might not be the most durable toys, but at least we have a back up if one of them gets destroyed.
Hickory Smoked Bone: Next up we got a Venison Joe hickory wood smoked beef bone.  Kitsune got really excited about this.  I know some owners don't give their dogs these types of bones.  Weight baring bones like this are very hard and can sometimes cause broken teeth.  Kitsune has good 'chew smarts' and doesn't usually chew too much on bones that are too hard for him.  This must taste good to him though.  He hasn't been chewing on it so much as just licking it, and carrying it around the house with him!
Digestive Health Paleo Treats:   These treats are made in the US and contain ingredients such as ginger and coconut oil to improve your dog's digestive health.  Unfortunately they also contain chicken, so Kit can't try them.
Dino Track Cookies:  From D.O.G. Bakery, these treats are made from all natural ingredients and, luckily, Kitsune was able to enjoy them!  They didn't have a flavor listed on the package, but contain peanuts and pumpkin, and smelled pretty good!
Beastie Bar:   I think we might have gotten one of these before, but I remember it having chicken in it so Kitsune couldn't try it.  This time we got a beef bar and Kitsune loved it.
There you have it - our June 2015 Pet Gift Box!  If you're interested, be sure to check out our List of Subscription Boxes for Pets, and some of our past Pet Gift Box reviews.  As far as I know, you should still be able to use the coupon code "kitsune' during checkout to get 25% off of your first Pet Gift Box.Thanks for reading!  I hope everyone has an awesome weekend!
**Disclaimer:  This post is sponsored by Pet Gift Box.  We received June's Pet Gift Box free of charge in return for our honest review.  As always, Paw Print Pet Blog only shares information we feel is relevant to our readers.  This post contains affiliate Amazon links.