Who new Schnauzers had such a propensity towards seafood?  The other week I posted about the 5th book in The Chow Network book series, Kung Pao for Pekinese,and this past weekend I had some free time to sit down and read the 6th installment, Seafood for Schnauzers.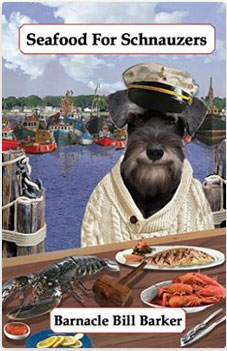 Growing up in New England, I know seafood!  I'm a vegetarian now, but have fond memories of my dad grilling freshly caught fish for dinner, and of spending the day at the ocean stopping, of course, at one of the many seafood restaurants for lunch.  Seafood for Schnauzers features 6 seafood "recipes".  Recipes in quotes because some might find the dog themed units of measurements (paws, bowls, swipes, etc) hard to follow.  Maybe ask your dog to translate?
Like the other books in this series, Seafood for Schnauzers was fun to read.  The dog chefs in each book each have their own unique personalities that really shine through.  I think any (or all!) of the books in this series would make great gifts, especially for dog lovers.
** We received a copy of Kung Pao for Pekingese free in exchange for our honest review.  As always, Paw Print only shares content we feel will be of interest to our readers.  This post does contain affiliate Amazon links.  See our "Legal Stuff" page for more details.