Happy Friday!  I totally had another blog post planned for today, but have had such a stressful week that I never got around to writing it.  Instead I'm going to write a quick update on Poppet's health.  Anyone who follows me on social media might have seen me posting about her being sick on Wednesday.
The long and short of it is that Poppet was battling GI Stasis.  I fed her and Barnaby, as I always do, around 8pm Tuesday night.  At that time Poppet seemed to be her normal, chipper self, and was eating with gusto.  Wednesday morning she was very lethargic, was obviously feeling some tummy pain, and refused to eat.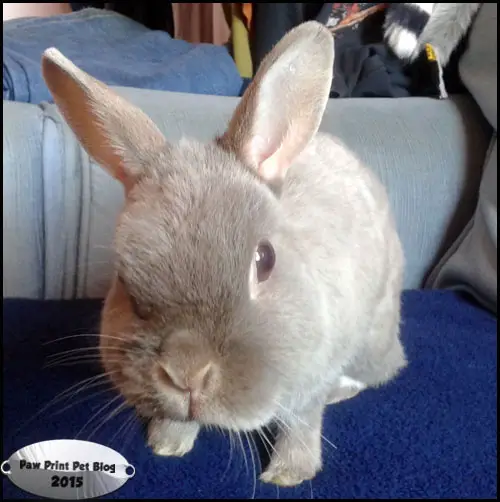 For anyone who doesn't have a lot of rabbit experience, skipping a meal probably doesn't sound like a huge deal.  For rabbits, it is.  A rabbit going more than 12 hours or so without eating is considered an emergency situation.  They have very sensitive GI tracts.  Not eating for awhile can cause their systems to shut down.  This is actually a pretty common cause of death in rabbits.
GI Stasis is never something a rabbit owner wants to experience.  But I've been keeping house rabbits for over 10 years now, and in Poppet's case my past experiences are probably what lead to her quick recovery.  I have a fully stocked rabbit first aid kit, so was able to begin treating her (after a phone consult with her vet) right away.
Four hours, lots of tummy rubs, and medication, later I was finally able to convince our little lady to eat something.  It wasn't a lot, but a good start.  By Wednesday night she was feeling much better, and by yesterday morning she was completely back to normal.
Hopefully it's a long time before anyone else gets sick here!  I don't mind nursing them out of it, but the thought that I might loose them in the process is scarey.  Poppet is still doing well today, and, thankfully, all my other pack members are happy and healthy.
I'm gearing up to have a totally relaxing weekend.  After the week I had I deserve it!  I hope everyone has an amazing weekend.  Comment below - is anyone doing anything fun?