Hey everyone!  I hope you all had an amazing holiday weekend.  We didn't do much to celebrate the 4th, but having a long weekend is always very appreciated.  The furbies here probably did the most celebrating, since they received their Pet Pakz box Friday afternoon.  I say 'the furbies' and not Kitsune because this box contained goodies for Kit and the bunnies!
The most unique thing about Pet Pakz is that it allows you to order a box for multiple pets and, unlike most of the boxes we've reviewed, Pet Pakz doesn't cater just to cats and dogs.  Besides being able to receive goodies for 4 dog size groups (tiny, small, medium, and large) and/or cats, you can also opt to get stuff for gerbils/hamsters, or rabbits/guinea pigs!  Costs start at $25 and go up to $53 per month, depending on whether you want goodies for just one type of pet, two, or three.  Pet Pakz has a grain free option if that's something you're interested in.  You can have your Pet Pakz delivered every month, which seems to be the norm with subscription boxes, or every other month.
Interested in learning what types of products Pet Pakz will send?  Here's what we got in our box!  We got what would be a silver Pet Pak, and selected to get items for Kitsune (20 lb dog) and for a rabbit (for Barnaby and Poppet to share).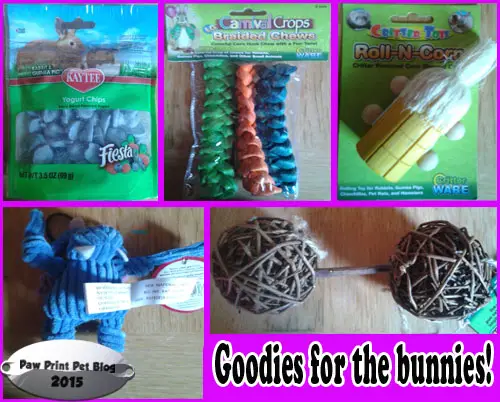 I'll go over what the bunnies got first.  Because they ended up with more than Kit, and because this is actually the first time my rabbits have ever gotten anything in a subscription box!
Kaytee Yogurt Chips:  I'm not quite sure what I'm going to do with these.  They're a bit controversial as far as rabbit treats go.  Plus I'm extra careful what I feed to my rabbits, especially since Barnaby is a senior and Poppet has a sensitive stomach.
Farmers Market Barbell Willow Toy:  This may have been the biggest hit out of everything we got in our Pet Pak!  Barnaby especially loves willow toys.  I don't buy them for him that often, because he makes short work of them.  He has so much fun with them though.  Our poor willow barbell didn't even survive a whole night with Mr.Barnaby, but he had an amazing time chewing it apart.  I was impressed that they sent us the large sized barbell.
Critter Toys Roll-N-Corn: I got a kick out of this toy.  It's a wooden corn car.  I haven't seen the bunnies play with it much yet but I have a feeling it's just because I gave them so many new toys all at once!
Carnival Crops Braided Chews:  These are dyed, braided strands of corn husk.  After the willow barbell, this is the toy I've seen the bunnies play with the most.  They are still pretty much intact after 3 days with the bunnies, but I did see Barnaby tossing them around and they are covered in chew marks.  I don't think they'll last too much longer, but that's the norm with rabbits and most chew toys like this.
Wee Huggles Plush Toy: This toy I think was technically sent for Kitsune, but it's really small.  I felt it was a bit too small for him, so ended up hanging it in the bunnies' room instead.  I saw Poppet grooming it a bit, and again think that they might show a bit more interest in it once some of the more eatable toys are gone.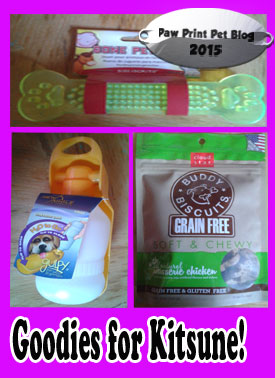 Next up we have the stuff for Kitsune! 
Bone Pet Toy: First up Kit got a green, 18cm, plastic bone.  Kitsune, as you may know if you've read some of my other posts, isn't usually a fan of plastic toys.  I couldn't get him to show much interest in this.
Buddy Biscuits: I've wanted to try these with Kit for awhile now.  We use (and love) Cloud Star Buddy Wash dog shampoo, but so far haven't tried their treats.  Unfortunately we received chicken treats, so Kitsune can't try them.  But I was impressed that we got such high quality, grain free treats!
New Angle Gulpy Pet Water Dispenser: This is a cool item that we will definitely get some use out of.  It's a portable pet water dispenser.  I spend a lot of time at the park with Kitsune.  We have a collapsible pet bowl, but then I usually have to find a water fountain or bathroom so I can fill it to give Kit water.  With Gulpy, I can just bring water for him.
The insert we got with our Pet Pak says that it's value is $52.92.  Had I purchased the box, it would have cost $39.  By the way, Pet Pakz does donate to charity for every box they send out.
We enjoyed our Pet Pak!  I think it has a lot of potential for owners of small pets especially.  So many of the types of toys they like are things that they destroy pretty quickly, so getting them delivered every month (or every other month) could be really convenient.  I love that you can get a box that contains goodies for multiple pets, for those multi-pet household like ours.
Want to check out Pet Pakz for yourself?  Use the coupon code "Paw123" to get 15% off any Pet Pakz subscription!  If you do end up trying it out, make sure to comment here, or on our pet subscription boxes post, and let us know what you think!
*We received our July Pet Pak free in exchange for our honest review.  As always, Paw Print Pet Blog only shares items we feel our readers would be interested in.  All opinions expressed are our own.  This post contains affiliate Amazon links.  See our "Legal Stuff" page for more information.*