I hope everyone is having a great start to their week.  Lucky Kitsune, who gets way more mail than I do, received another subscription box to check out last week.  We received a July box from PawPals with Annie!  If you're interested in PawPals with Annie!, or subscription boxes in general, read on!  We'll share what we got in our box, and what we though of everything!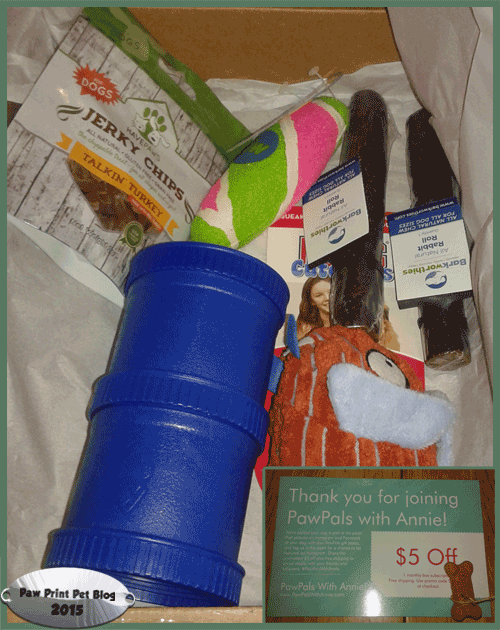 All the goodies in PawPals with Annie! boxes are Annie (who is an adorable Scottie dog) approved.  Subscriptions start at $32.95 for 1 month, but you can get a small discount if you get a 3, or 6 month subscription.  There are deluxe box options available, just in case you dog needs some extra spoiling, or you have multiple dogs.
Without further ado, I'm going to share what we received in our box!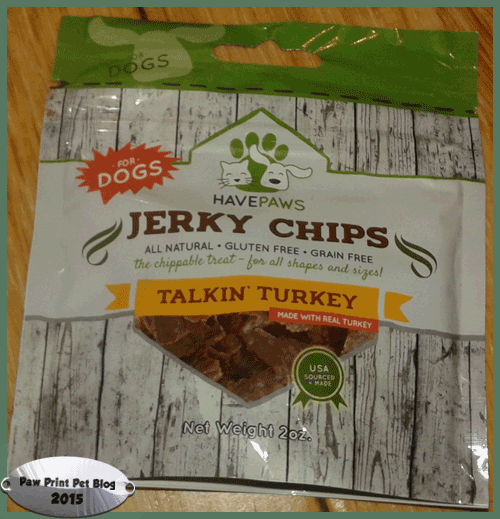 Jerkey Chips:  First up we got some turkey flavored jerky treats.  They are all natural, grain, and gluten free.  Unfortunately Kitsune can't try these  since they contain poultry, but I was happy to see a high quality treat included.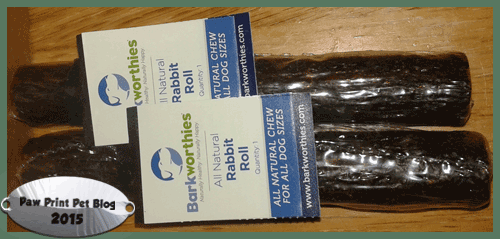 Barkworthies all natural Rabbit Roll:  Another high quality eatable!  We got 2 of these Barkworthies Rabbit Rolls.  Kit got really excited about these.  I wasn't as crazy about them.  Despite the fact that yes, I feed Kit meat all the time, rabbit is one I have some trouble with.  I've kept rabbits for pets longer than I have dogs, so it's hard for me to see them as anything other than pets.  Totally not a negative against Pawpals with Annie!, just a personal preference.
Kong CuteSeas:  Next up we got this adorable plush fish.  I think this was probably the biggest hit of our box.  Kitsune wanted to start playing with it right away, and it's really cute.  It does have a squeaker, and the fins make a crinkling sound that Kit really likes.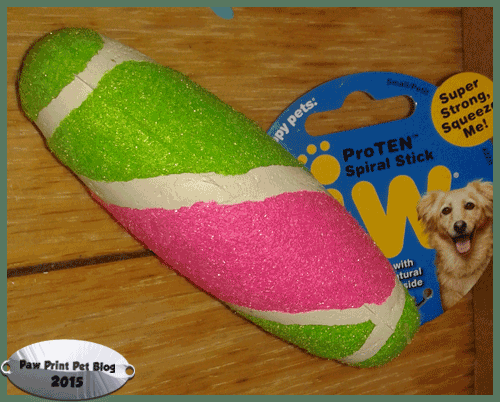 ProTen Spiral Stick:  Another winner!  Kitsune loves tennis balls, but we had never seen this specific toy before.  It feels similar to a tennis ball, but of course is shaped differently.   Kit has been having fun playing with this since he got it.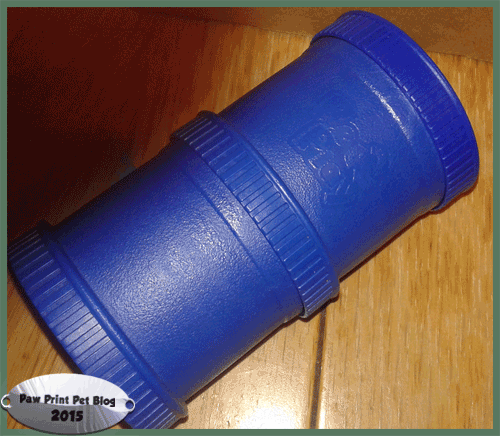 Re-Play Pet Pet Pod:  This is a cool product, and something I had never seen before.  It's a plastic screw shut container that can be used to store/carry things like pet treats, food, and water.  It's made from recycled plastic in the USA, is fridge and freezer safe, and stackable if you ever want to buy more.  I really like this product.  I love taking Kitsune places with me whenever I can, and feel that this product would be a great way to carry treats/water for him in my purse.
I think what I loved most about PawPals with Annie! is that, despite the fact that my dog is super spoiled, and I've been reviewing pet products for about 6 years now, we were introduced to a couple of products that I've never seen before - most notably the Pet Pod and Spiral Stick toy.  Judging just off this box, I'd say that PawPals with Annie! would be a fun box for dog owners who are looking to try out a verity of products that they may not have been exposed to before.  I was also impressed by the quality of the treats that were included in our box.
If you're interested in trying PawPals with Annie! for yourself, they are currently running a promotion.  You can use the code "DOGBOX" at checkout to get $5 off a 1 month box subscription, plus free shipping.
*We received our PawPals with Annie! box free in exchange for our honest review.  As always, Paw Print Pet Blog only shares items we feel our readers would be interested in.  All opinions expressed are our own.  This post contains affiliate Amazon links.  See our "Legal Stuff" page for more information.*