This review is a bit different that my usual reviews, mostly because it's not technically a pet product.  However, I was recently asked to try out one of Simply Stamps animal themed address stamps and I love it so much I just had to share!
I know, it seems weird that I'm so excited about a stamp right?  But I have a good reason - call me crazy, but I've never enjoyed having to write out my address on envelopes when I send out mail.  Perhaps because a majority of the time when I'm sending out mail, it's something boring like bills.  Does anyone really want to spend longer paying bills than they have too?  I usually just want to get it over with as quickly as possible.
Plus the Simply Stamps animal address stamps are adorable!  I had a hard time selecting which one I wanted, but ultimately went with the Papillon stamp because, being a Papillon owner for the past 6+ years, how could I not?  This is what the stamp I received looks like...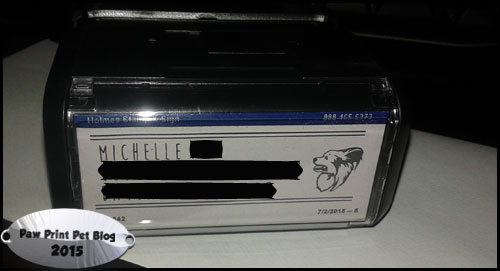 And look how well it works!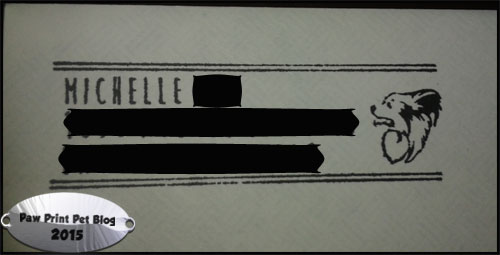 I got a black, self inking stamp.  There is a clear window that makes it easy to position your stamp, and you don't have to worry about making a mess with the ink because the cartridge is self contained.  You can buy regular wooden stamps if you don't want a self inking one.  Simply Stamps also has the option to make your stamp eco-friendly, which I love.
If dogs aren't your thing don't worry, they also have address stamps that feature cats, birds, butterflies, elephants, and horses.  And of course they have lots that aren't animal themed, if you decide you don't want to show off your love for your furry friends on your outgoing mail.
I really love my adorable Papillon address stamp and am sure I'll get a lot of use out of it.  Luckily ink refill bottles are pretty cheap.  If you want to get a new address stamp for yourself, and maybe make bill paying a little bit cuter, make sure to check out Simply Stamps!
**We received our Papillon address label stamp for free in exchange for our honest review.  As always, all opinions expressed are our own and Paw Print Pet Blog only shares products we feel would be of interested to our readers.**