Finding flooring that works well with my pets is something I've been struggling with for awhile now.  We rent the place we live in now, so don't really have the option to have the floors redone.  The flooring in our apartment is mostly really old vinyl.  It doesn't look amazing, but one thing I've always liked about it is that it is easy to clean.  When renting with pets, easy to clean is always a good thing!
The biggest drawback I've found to the vinyl is that it's slippery for furry paws.  My Papillon Kitsune has hobbit feet - his fur grows long on his paws.  I try to keep his fur, on the bottom of his feet especially, trimmed short.  I can always tell when his paws are due for a trim.  When the fur on the bottom of his feet gets long enough that it starts to cover his paw pads, he starts slipping around more on our floors.  Luckily for Kitsune, a quick pedicure fixes that problem.  My rabbits aren't so lucky.  The bottoms of rabbit feet are furry. They don't have paw pads or anything to help them get a better grip on slippery flooring.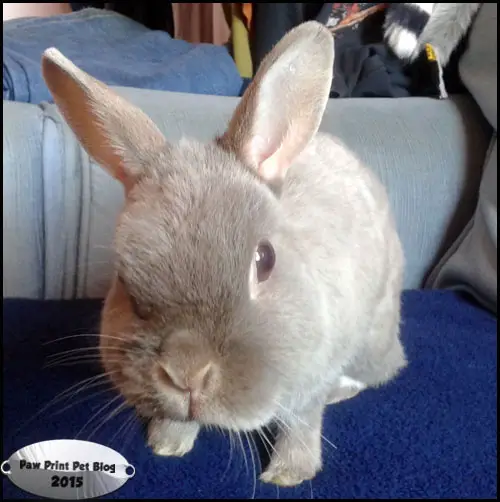 Poppet will sometimes be brave and risk walking on the vinyl flooring, but Barnaby has always been very picky about what type of flooring he will, and won't, walk on.  Another issue that comes up with rabbits is the development of sore hocks.  Since they don't have much protection on their feet, rabbits can be prone to developing painful sores on the bottom of their paws.  It happens most commonly when they don't have proper flooring, or when their nails grow too long and interfere with how they walk/stand.
Poppet came to us with sore hocks, so I wanted to be extra careful about what type of flooring I used for her.  When it was just Barnaby, I covered the vinyl flooring in the bunny room with a sisal area rug so he wouldn't have to deal with the slippery floor.  This worked well for Barnaby, but not so much when Poppet came along.  The sisal was too rough on her already sore feet.  Plus, with two rabbits now instead of just one, I was finding the sisal rug to be a bit annoying to clean.
To attempt to make the flooring softer, and also easier to clean, I bought a whelping pad liner.  This ended up solving my cleaning problem - the whelping pad has a rubber backing so it doesn't allow liquids to soak through, and it can be machine washed.  But unfortunately it was still too rough on Poppet's sensitive feet.  So what I ended up doing is also getting some of these foam mats.  So the flooring in my bunny room is a crazy layered mess!  I left the sisal rug down, then covered that with the whelping pad.  On top of the whelping pad I have the foam mats, which are nice and soft and helped to heal Poppet's feet.  But then Poppet decided that she liked to chew on the foam, so I've been covering them with old sheets.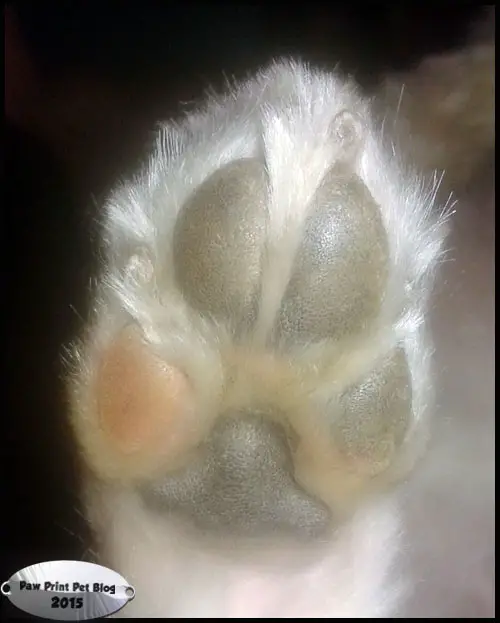 Crazy right?  As you can probably imagine, cleaning all that is quite a process!  The rest of our apartment is either just the exposed vinyl, or covered with area rugs.  The rugs give Kitsune more traction when he's playing, and make the floors look a bit nicer since, like I mentioned, the vinyl floors here are old and not looking their best.
Eventually we'd love to get our own home.  The idea of being able to personalize our home however we want, including selecting flooring that will both look nice and work well with our multiple pets, is exciting.  If you're in a position where you can change the flooring where you live, or even if you're just in the daydreaming phase like me, check out Wayfair's new Best Pet-Friendly Flooring Guide.  They go over some of the most common flooring types, and list the pros and cons of using each type of flooring in a home with pets.
Comment below!  Have you ever had to come up with creative flooring solutions for your pets?  What type of flooring do you have currently, and what type do you think works best with pets?