We're almost all the way through The Chow Network book series!  The last book in the series has actually already been released, but I'm a bit behind.  Today I'm going to tell you about the second to last book, Leftovers for Labs.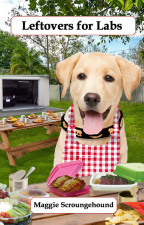 Leftovers for Labs is the seventh book in this series and, like the others, is currently available through Amazon.  The books are all reasonably priced, currently Leftover for Labs is just $9.99 for a paperback copy and $2.99 for a digital copy.
I'm somewhat of a picky eater, and the mish-mashed leftover dishes in this book don't sound all that appealing to me.  But they did make me laugh - I could totally see Kitsune going crazy for the huge plates of varied leftovers!
It's important to note that these books are really more for entertainment purposes than to be used as real cookbooks.  Especially when it comes to cooking for your dog - While I'm sure Kitsune would love to get his paws on any (or all!) of the dishes in this book, they would surely leave him with a tummy ache.
I've said it before and I'll say it again, these books are entertaining.  The dog chefs featured in each book have personalities all their own, and the recipes are fun to read.  The books aren't very long, but I don't think that's a bad thing.  They're great if you're just looking for a quick pick me up, especially if you are a dog lover!  I'm not an expert, but think children would enjoy these books as well.  Maybe just explain to them that they're meant to be silly, and Fido should stick to his healthy, species appropriate diet.