Happy Monday everyone!  I'm so sorry I only got one post out last week.  I normally like to post more often, but last week was a bit hectic for me.  I won't get into it here since it wasn't pet related at all (all my critters are doing well!) but suffice to say that life got in the way of blogging for a majority of the week last week.  To make it up to you all, today I'm announcing a giveaway!
You can enter via the Rafflecopter below if you are interested in the giveaway. I know I've been in a bit of a lull as far as hosting giveaways goes, but I'm going to try to have them a bit more often moving forward.  So stay tuned, if you don't like this one, or don't win, they'll be plenty more opportunities to win stuff in the future!
So here's the prize package I put together for this giveaway: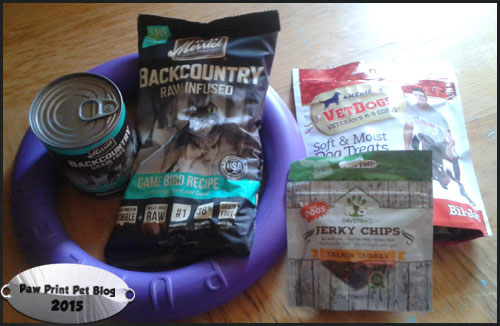 It includes a 1lb bag of Merrick Back Country Raw Infused dog food (Game Bird Recipe) and a 12.7 oz can of Merrick Back Country Grain Free Heart Duck + Venison Stew wet food.  These items are the reason I put the little disclaimer about some people possibly not being interested in this giveaway.  I know a lot of owners were upset by Merrick when they recently announced that they were purchased by Purina.  However, I obtained these items a few months before that announcement was made.  I can't use these items myself because they contain ingredients my dog is allergic too, but I thought they might come in handy to someone.  Maybe you are transitioning away from Merrick products but your dog is used to their food and you could use a bit more to help with the transition?  Or the dry food could be used as training treats.  Again, these products were manufactured well before Merrick was purchased by Purina.
I'm also giving away a 2 oz bag of HavePaws Jerky Chips, Talkin' Turkey flavor, and a 10 oz bag of Bil Jac Soft & Moist chicken flavored skin and coat treats.
The last item is a standard sized Puller dog toy.  If you've never heard of these before you can check them out on Amazon.  They normally come in sets of 2 but I only have 1 for this giveaway.  I don't have the original packaging, but the item is in new condition.
If you win the giveaway and are interested in some of the items but not all, let me know and I'd be happy to donate what you don't want to my local shelter rather than shipping them out.  I can only ship the prize to participants in the continental US (sorry) but if you are outside of that area and want to enter I would be more than happy to ship the items to a friend/family member/etc within the continental US on your behalf, or you could request to have the items donated.
The giveaway will close on August 22nd.  The winner will be notified via email and will have 3 days to respond before an alternate winner is selected.
Thanks everyone!  I hope you all have a great week and are enjoying the last full month of summer!