I was recently tagged by the lovely Anne from Whiskers to Paws to take part in the 8 photos of happiness tag.  Started on Ariel's Little Corner of the Internet, the idea is to share 8 pictures that represent happiness.  Hopefully the pictures I selected make you smile, I know I had a lot of fun looking through all my old photos.
This is a picture of Kitsune from the day we first got him!  He was only 9 weeks old at the time (taken in 2009, not 2014.  2014 was the year I first posted this picture on my blog).  I didn't know then how bonded we'd become, or what a huge impact he'd have on my life, but I was so happy to finally have a puppy of my own!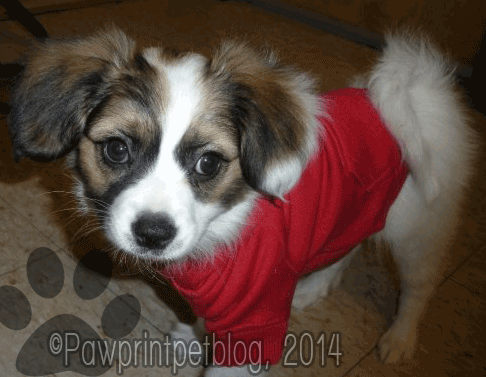 My next picture was taken on the day we adopted Poppet, almost a year ago now.  She's touching noses with Kitsune in this picture.  Poppet had a really rough life up until we adopted her.  Looking at her now, how she's flourished and turned into such a sweetheart despite being treated so badly before, always makes me really happy.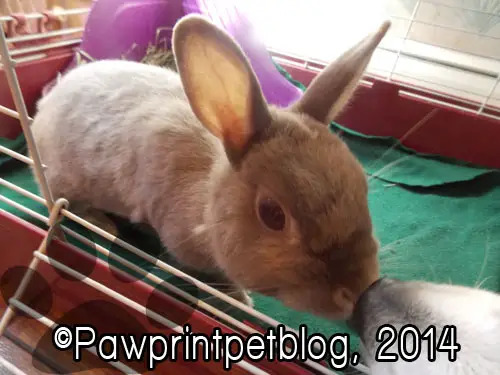 And this is Poppet and Barnaby snuggling.  Seeing them together always puts a smile on my face.  Barnaby was also a rescue and because of how he was treated when he was young (before we adopted him) he's never been a big fan of people.  But he just adores other rabbits, and I love seeing how happy he is now that he has Poppet to keep him company.
My next picture is an old one of Aurora and Haku together.  This was taken shortly after we got Aurora.  I just think it's a cute picture, those two look so cute together.  Haku passed away almost a year ago now, but looking back at pictures of him reminds me of all the happy memories we have of him.
These are pictures of Miyuki hatching!  Haku and Aurora are her parents.  This was the only time we've had a baby born here with us and I was so excited to be able to actually watch Miyuki hatch.
This was the first picture of Kitsune that I ever uploaded to my blog!  I've been blogging now for almost 5 years and starting my blog all those years ago was really a turning point in my life.  I've met so many amazing people, and had so many awesome opportunities because of my blog.
I just really like this next picture of Kitsune.  There's so much humans can learn from dogs, including compassion.  My pets, Kitsune especially, have really helped me to relate better not only to animals, but in many ways to other people as well.  Plus, seeing him happy always makes me happy too!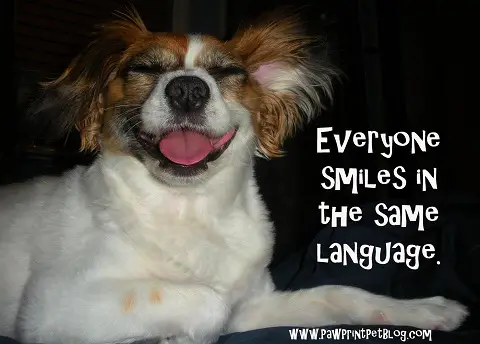 And my last picture is one of Kitsune at the beach.  We currently live in the city, which is hard for me at times.  I grew up out in the middle of nowhere, and love nothing more than being surrounded by nature.  Despite living where we do, Kitsune and I have found ways to reconnect to nature together.  One of our favorite places to go is our local park, which includes this small section of beach.  I love to sit on the rocks and listen to the waves while Kitsune explores in the sand.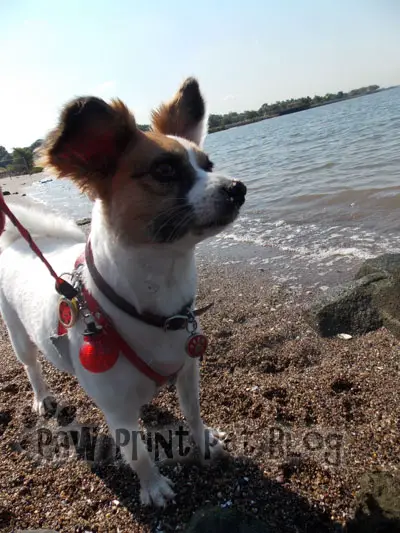 I used all pet themed pictures for my 8 pictures of happiness since this is a pet blog!   I don't really have anyone specific to tag.  Most of the pet bloggers I follow closely have already been tagged it seems.  So I tag you!  Anyone who reads this, has a blog, and wants to take part in the 8 photos of happiness tag but hasn't been tagged already - tag, you're it!
Rules and explanation of this tag:
Thank Ariel and the your nominator and link them in your post.
Post your 8 photos of happiness. The photos can be anything that represents a moment, object, place, or feeling that makes you happy.  Add a brief description of the photo, why you chose it or let the photos do the talking!
Spread the happiness by tagging up to ten other bloggers!