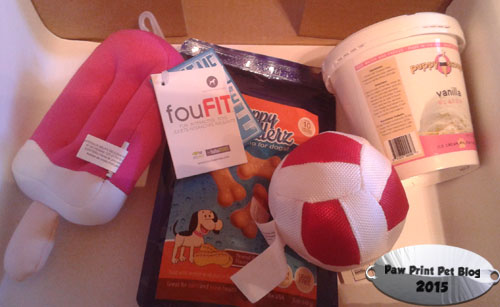 I hope everyone is having an awesome week so far!  I took a couple of days off from blogging because my fiance and I randomly decided to completely rearrange part of our apartment.  We're slowly finding new spots for everything and luckily Kitsune has been a real trooper through it all (the other pets are in a room not affected by the changes).  Speaking of Kitsune - earlier this month he received his August Pet Gift Box.  Read on to see what was in it!
The theme of this months box was "Dog Days of Summer".  A fitting theme, since it's been quite hot here this month!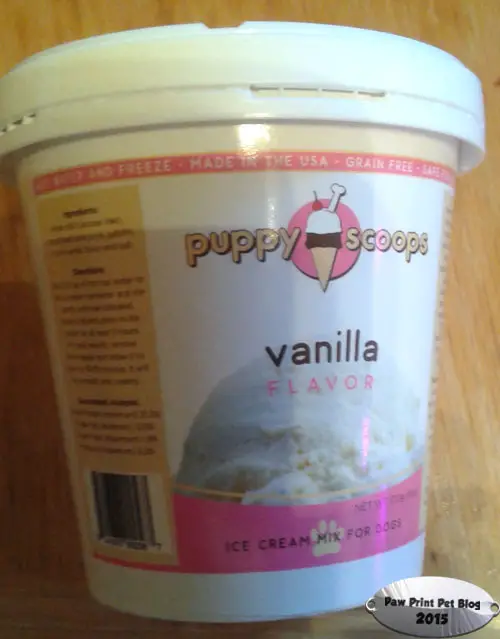 We got two really interesting treats in this months box.  The first (pictured to the right) is Puppy Scoops Ice Cream.  It's ice cream made especially for dogs!  It comes as a powder that you mix with water and then freeze.  Kitsune loves it!  I made the whole container but have been giving him a little bit at a time rather than letting him eat it all at once, so it's lasting us awhile.
We also go Puppy Chillerz Jello for dogs.  This treat is basically peanut butter flavored Jello for dogs.  What I thought was really fun about it is that you can use molds to make the treats.  We happened to have some pirate themed ice cube trays, so Kitsune got pirate themed Jello treats!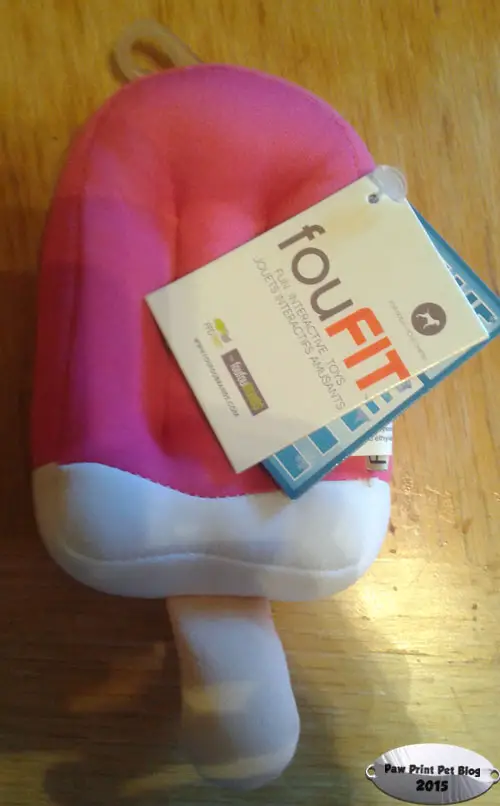 We also got two toys in this month's box.  The first one (pictured) is a toy "Pupsicle" that you can get wet and then freeze.  I bet it would be great for teething puppies!
We also got a white and red lifeguard ball.  What dog doesn't love balls?  It's about the size of a tennis ball, and floats!
Something I do want to mention, as someone on our Facebook page recently pointed out, Pet Gift Box does send toys that are made in China.
Lastly in our box we received a Fou-Stick.  We've used Fou-Stick products before, although this was our first time trying their Protect stick.  Fou-Sticks kind of look like giant tubes of chap stick, but they contain paw and nose balm made out of high quality ingredients like beeswax and coconut oil.  You can use them on your dog's paws to help protect them from the hot pavement, or to help heal cracked, dry paws.
Another fun box from Pet Gift Box!  Our favorite things this month were both of the treats.  They were fun and something we've never tried before.  Does your pet get monthly gift boxes too?  Comment below and let us know what you think!  Also be sure to check out our list of subscription boxes for pets, which we update regularly.
*We received our Pet Gift Box for free in exchange for our honest review.  Paw Print Pet Blog strives to only share products/services we feel our readers will be interested in.  This post contains affiliate Amazon links.  To learn more, visit our "Legal Stuff" link at the top of our page.