Hi everyone!  I hope you all enjoyed a wonderful weekend.  Today I have a dog subscription box review.  I know I mentioned previously having to turn down opportunities to do product reviews.  However, one type of review I always have trouble turning down, and usually don't, is pet subscription box reviews!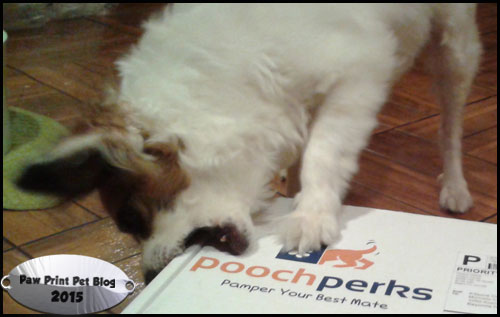 Paw Print gets a lot of traffic from people looking for these types of boxes - our List of Subscription Boxes for Pets post has been our most viewed post since we first created it back in 2013.  One of the companies that has been on our list for awhile, Pooch Perks, recently asked if we'd review one of their boxes and Kitsune especially was happy to oblige!
Before we show you everything that was inside our box, I'll just go over the basics.  Pooch Perks is a subscription box for dogs.  It groups dogs into two sizes - below 35 lbs and 35 lbs and above.  Once you select your dogs size you get 4 package options.  The PennyPincher Pooch is the cheapest package, it's $20 per month and contains 2 or 3 items.  The most expensive package, the Pampered Pooch, is $50 per month and contains 6 items.  Besides the 4 standard packages, Pooch Perks also offers a treat only box for just $20 per month.
We received a box to review free of charge in exchange for our review.  Kitsune weighs 20 lbs so we got a box created for dogs 35 lbs and under, and ours contained 7 items.  This is what we received...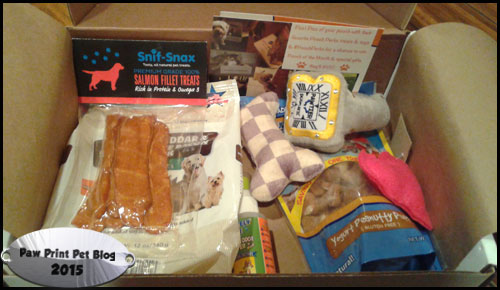 Snif-Snax Salmon Fillet Treats: These treats contain only salmon, salt, and hickory smoke.  The package says they are rich in protein and omega 3.  The fillets don't last long so I wouldn't consider them to be a chew, but Kitsune really likes them!
Lindy & Company Yogurt Peanutty Puppers:  These are gourmet dog treats that are homemade by homeless youth.  The flavor we got is called Yogurt Peanutty Puppers - I couldn't find that exact flavor on Amazon so linked to another flavor in case anyone wants to check them out.  I haven't let Kitsune try these since they do contain egg whites and he cannot eat anything containing poultry or eggs.  But I love the idea of a company that helps homeless youth!
Cheesy Cheddar & Smokehouse Bacon Flavored Treats:  Kitsune has been going crazy for these!  They are made in the USA and contain flaxseed to help promote healthy skin and cardiovascular health.  I'd say out of everything in this box these are Kitsune's favorite.
Pet Stain & Odor remover: We've actually tried this product before.  It contains enzymes to help eliminate pet messes, and is eco-friendly.  The last bottle we had was back before Poppet was litter box trained.  Luckily she's using the litter box like a pro now, but I'm glad I have another bottle of this on hand in case we need it.
Micro Mini Dog Toy: We got 3 toys in our box, this one being the favorite.  It's a little pink heart with a squeaker inside.  The tag says it's hand made in Vermont from eco-fi, a fiber made from recycled plastic.  Kitsune really likes little toys with squeakers like this and I really like that it's made in the US.
Chewy Vuiton Toys: We actually got 2 of these toys but I'm grouping them together because they are so similar.  One is a "chewy Vuiton" plush bone and the other looks like a plush watch.  They are both from the same company, and both have squeakers which you know Kitsune loves!  One thing to note is that these toys are made in China.
All in all this was a really fun box!  My favorite thing about Pooch Perks is that they only send treats that are made in the US.  Some of their packages are a bit pricey compared to other boxes, but I'd personally be willing to pay more for a box that contained high quality, mostly USA sourced toys/treats.  They also do have the PennyPincher and treat only options for pet owners on a budget.
Interested in learning more?  You can visit Pooch Perks on their website, Facebook, Twitter, Pinterest, or Instagram.  When you're ready to try out Pooch Perks for yourself, use the coupon code "PawPrintPet" to get 25% off your order!
I'd love to hear from you!  Comment below and let us know - Has your pooch ever gotten a box from Pooch Perks?  What did you think of it?