It's 6am here!  Early for me to be blogging, considering that I work from home and make my own schedule - which usually doesn't entail waking up too early.  I've been having a bit of a hard time sleeping lately which has lead to lots of early mornings and late nights.  I'll probably have to resort to either an energy drink or a nap later, considering that I didn't go to bed last night until around 2am.  My parents have always been big coffee drinkers, but I've never really been able to drink it.  It bothers my stomach, and I never learned to like the taste (although, strangely, I often times think it smells amazing). 
I'm obviously not the leading authority on coffee.  I can make a mean hot chocolate, and my tea game is pretty on point, but coffee has never been my thing.  So what am I doing blogging about coffee, and on a pet blog no less?  I recently discovered the Smiling Dog Coffee Company - a company founded on the love of coffee and dogs!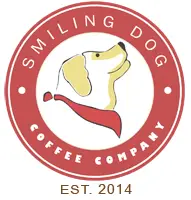 I can't personally vouch for the taste of this coffee, but I love that they give back.  Up to 25% of the proceeds from each order go directly to the company's rescue partners.  They offer everything from coffee beans to k-cups.  They currently have a couple of flavors, most with creative names (Muddy Paws is my favorite), and their coffee is sourced from suppliers that are USDA Organic and certified with the Rain Forest Alliance.
If you're like me, and don't drink coffee yourself, I think this company's products would make amazing gifts for any coffee drinker in your life.  I can never think of good gifts to get for my dad, who happens to be the king of coffee in our family.  I don't know why I haven't thought of this before, but I'm totally getting him a bag of this coffee for Christmas this year.  Just remember, this coffee helps dogs but isn't for dogs.  Caffeine may be a life saver to humans on an early Monday morning, but it's toxic to dogs.
Comment below!  Do you drink coffee?  Have you ever tried it from this company before?  If anyone tries it you'll have to let me know how it is!