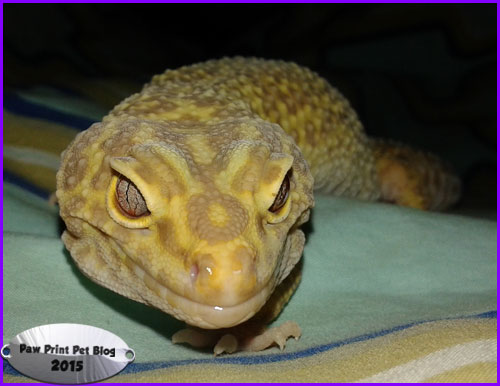 Last week I posted some new pictures of my younger Leopard gecko, Miyuki, and mentioned that I have a couple of pet birthdays coming up.  Yesterday was one of them - Aurora turned 7 years old!
I know everyone says this, but I can't believe that 7 years have passed so quickly!  The lovely Mrs. Aurora is doing very well.  Earlier this year I noticed she was starting to get on the skinny side and for some reason didn't seem to be eating out of her food bowl much anymore.  Aurora is albino and has always had really sensitive eyes.  She's not blind, but I don't think she can see very well and her eyes are very sensitive to light.  My guess is that this is why she started having trouble finding her food.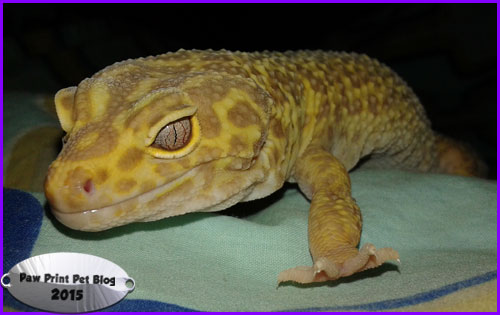 I bought feeding tongs and started the process of training her to eat off the tongs.  She actually caught on a lot faster than I thought she would and quickly started gaining weight back.  In fact, by mid-summer she had gained too much weight and I actually had to put her on a bit of a diet!  Luckily both of us have gotten the hang of her eating this way.  She readily eats her meals but I'm more careful now not to overfeed her.
I liked hand feeding Aurora this way so much that I also trained her daughter, Miyuki, to eat this way.  They both still have dishes of food in their tanks but I haven't noticed them eating from them in months.  I like knowing when, and how much, they have eaten and being able to hand feed them makes them a bit more interactive.  The only downside I've thought of so far is that if I ever need someone else to care for them (if I want to go on vacation or something) I'll need to find someone who will be willing to feed them this way.  Not everyone is going to be too keen on hand feeding bugs to them!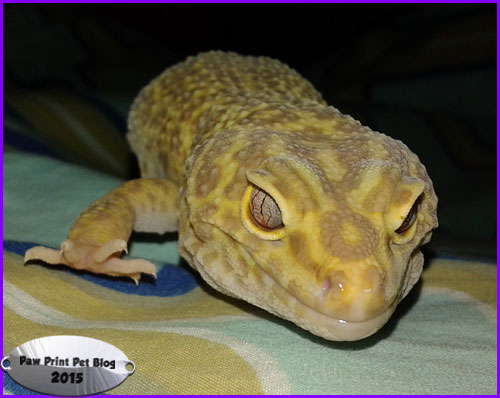 Other than the feeding change not too much has been new with Aurora.  The weather here is getting cooler but my gecko tanks are heated so they're still happy and warm.  We didn't do anything to celebrate her hatch day because really, what would we do?  She didn't need any new supplies and I just redecorated her tank the other week.  I spent a bit of time with her yesterday, took some new pictures, and fed her.
On a bit of a personal note - I've been having a really crazy month!  It looks like I'm going to have an awesome (for me, at least) announcement to make around the end of the month and it's something I'm VERY excited, but also a bit nervous, about.  On top of thinking about that I've been working a lot.  This past weekend was particularly stressful because my fiance hurt his back pretty bad on Friday, and then yesterday my niece was admitted into the hospital.  I've been worried about both of them, although luckily they should both be fine in a couple of days.
Hopefully no one gets sick of these posts because I do actually have another pet birthday to celebrate mid-week!  Until then, I hope everyone has an amazing week!