Hello!  Thanks for stopping by.  On Monday I wrote about Aurora the Leopard Gecko turning 7, and mentioned that we had another pet birthday to celebrate this week as well.  Today is the 1 year anniversary of the day we met Poppet!
Since we adopted her as an adult, we don't really know for sure how old Poppet is.  Her vets estimated her to be around 3 years old when we adopted her last year, which would make her around 4 now.
The other week I uploaded a couple new pictures of Poppet to my Facebook page.  I was looking through my album of rabbit pictures and really noticed, for the first time, how different Poppet looks now compared to when we first got her.  Here, take a look...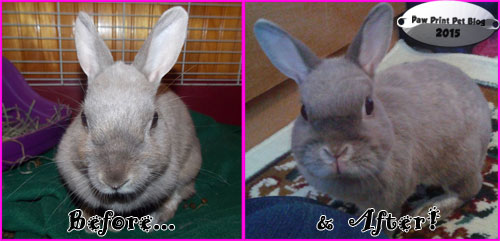 Crazy right?  The after picture could be better quality but I think you can see what I mean.  I haven't weighed her lately so I'm not sure exactly how much weight she's gained, but she has filled out a lot.  Poor Poppet was SO bony when she first joined our family.  She has a lot more energy now than she did a year ago, I'm sure in large part due to the fact that she's no longer extremely underweight.
Her transformation has just amazed me.  Before we got her she was slated to be euthanized because of her poor health, and due to the fact that the shelter staff had labeled her as aggressive.  It took some time to sort out all her health issues, but after just a few days of living in a safe, bunny friendly environment she went from aggressive to being literally the sweetest rabbit I have ever met.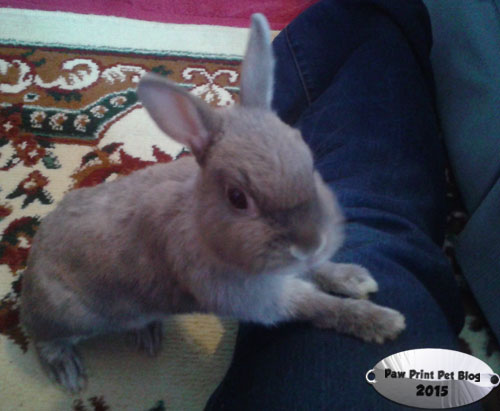 Poppet never really developed an interest in toys, other than the eatable kind, but loves exploring and sucks up attention like a little sponge.  She's lucky that my other rabbit, Barnaby, loves her so much and is happy to oblige her constant demand for kisses.  She also loves food and will eat, or try to eat, almost anything!  I always have to keep an eye on my dog to make sure he doesn't bring his treats into the bunny room, because Poppet will steal them!
Miss Poppet fit so well into our family that once she got here it felt like she had been here forever.  And yet it's hard for me to believe that a year has passed already.  She has brought so much joy into our lives - especially for Barnaby who I know never enjoyed being an only bunny.  Seeing those two snuggled up together, happy and healthy, always brings me such joy.  I hope that Poppet is here to celebrate many many more birthdays with us!