Happy Friday!  I hope everyone had an amazing week.  I've gotten into the habit of posting pet subscription box reviews on Fridays mostly because they are so much fun to work on!  Kitsune love love loves when his boxes get here, and despite all the goodies inside being for him the excitement of not knowing what's in each box is fun for me too.
Earlier this month we received Pet Gift Box's Hawaiian Lu-Arf themed box.  We've been reviewing Pet Gift Box for awhile now and always have so much fun with their boxes.  We review dog boxes, but remember that Pet Gift Box offers boxes for cats as well!  Boxes are as low as $18.99 a month if you get the 1 year subscription.  Use the coupon code "kitsune" during checkout to get 25% off of your first Pet Gift Box!
Without further ado, I'm going to show you what we got in our September box!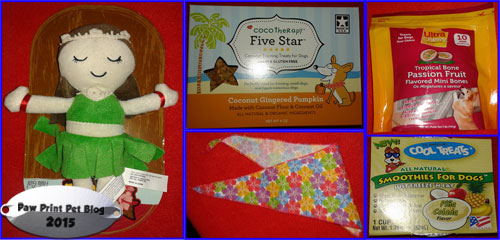 Aloha Dog Toys Hula Girl:  I couldn't find this toy online anywhere, but as you can see from the picture above it's a cute plush hula girl dog toy.  It has a squeaker which, if you know Kitsune, you know that plush toys with squeakers are always a hit with him!  Just noting that this toy is made in China.
CocoTherapy Five Star Coconut Gingered Pumpkin Training Treats:  Now your dog can get in on the fall pumpkin craze!  These treats are cute - they look like tiny little stars.  I like that they are really small, as the box suggests they'd make great training treats.  They are made in the US from organic ingredients.  I can't comment on their palatability as unfortunately they contain eggs, so Kit can't eat them.
Ultra Chewy Passion Fruit Tropical Mini Bones:   Next up we got a 5 oz bag of passion fruit flavored mini bones.  The bag says these help control plaque and tartar.  I love giving Kitsune chews as he enjoys them, they keep him busy longer than your average treat, and help clean his teeth!  But he couldn't try these because they contain poultry digest.
Hawaiian Bandana: This Hawaiian bandana features a cute multicolored floral design.  There weren't any tags on it so I'm not sure of the brand, and it's a bit on the small side for Kitsune, but is really cute nonetheless.
Cool Treats Pina Colada Smoothie:  The last item we received was a pina colada flavored dog smoothie.  The 1.75oz smoothie cup can be fed as is, or frozen for a cool treat.  It is made in the US.  The weather here has actually been on the cooler side lately, so I gave this to Kit without freezing it first.  He really enjoyed it!  It was funny, he'd lap up a bit then look at me almost like he was saying "are you sure this is for me!?".
According to the insert this month's box was worth $36.95.  A great deal, especially if you opt for a year's subscription and only pay $18.99 per box.  Sometimes I feel bad reviewing these boxes.  Because of Kitsune's food allergies there are sometimes items we can't personally try out.  Hopefully just listing the items is helpful to some, so you can get an idea of the type of items you can receive in your box even if I can't actually review each individual item.  Despite not being able to always use everything, we still have a lot of fun with our boxes each month!
Have you ever gotten a Pet Gift Box for your pet?  Comment below and let us know!
**We received our Pet Gift Box for free in exchange for our honest review.  We were not compensated for this review and as always, only share content we feel will be beneficial to our readers.