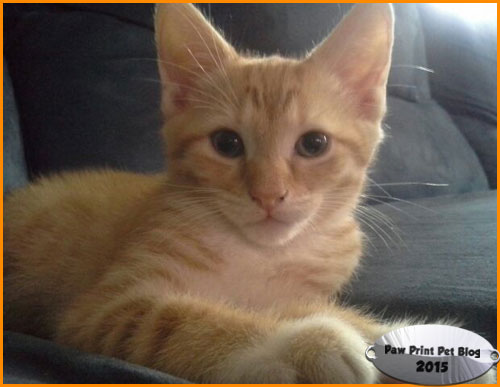 I've mentioned before that for many years I actually considered myself to be more of a 'cat person' than a 'dog person'.  Strange considering how obsessed I am with dogs now!  I still adore cats, but unfortunately doubt I'll ever own any of my own because my fiance is allergic to them.  The little cutie pictured to the left is my sister's newest addition, Keegan! 
My blog gets a lot of views from people looking for information about pet subscription boxes.  I've done quite a few reviews on dog boxes, one on a rabbit box, but never any on cat boxes.  When the awesome people over at meowbox contacted me I was game for writing a review.  Although I don't have a cat of my own to help me test the products, I hope that seeing what types of products meowbox sends will help you decide if it's the right subscription box for your furry friend.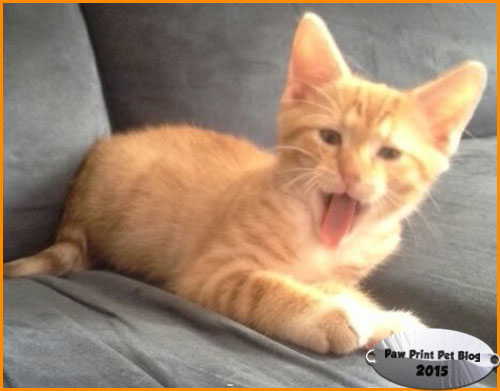 Meowbox is a pet subscription box that sends monthly goodies for your cat - fun toys and treats that are made in Canada or the US.  For cats with sensitive tummies or food allergies, meowbox offers boxes that contain extra toys in place of edible items.
Subscriptions cost $32.95 for 1 month, but you do get a discount if you purchase 3 or 6 month subscriptions.  For every box purchased, meowbox sends a can of cat food to an animal shelter.  You can even track the individual can of food donated on your behalf to make sure it finds its way to a hungry shelter kitty.  One thing that really made meowbox stand out to me is that they take the time to hand write your cat's name on each box.  Their packaging is great.  In addition to the items highlighted below, we received a bookmark with a cute cat cartoon on one side and a coupon on the other, and a feather taped inside the box.  They also send an insert with a brief description of each item sent.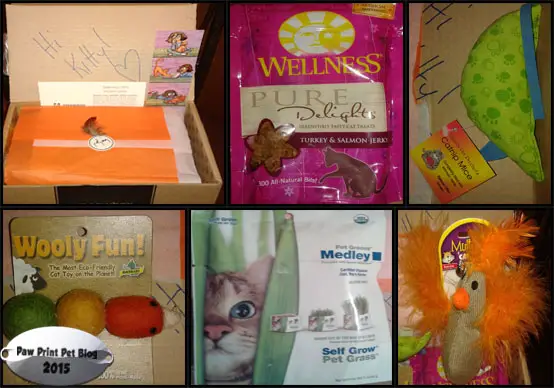 Here is a description of each item we received in our September meowbox!
Wellness Turkey & Salmon Jerky:  I'm very picky when it comes to pet food/treats, and Wellness is a company I've purchased from numerous times in the past.  These treats are made in the US, from high quality ingredients.
Johnson Pet Products Catnip Mouse: I don't know much about catnip, but this toy smells good to me.  It's made in the US, and the tag even features a coupon code for a discount on your next Johnson Pet Product purchase.
One Pet Planet - Wooly Fun Caterpillar:  I couldn't find this exact item on Amazon, but linked to a similar product from the same company.  Kitsune (my dog) actually has a few dog toys from this company that he really enjoys.  These toys are 100% wool, chemical free, and eco-friendly!
Pet Greens Self Grow Pet Grass:  I have to admit - all the other products in our meowbox I'm sending to my sister for Keegan, but the pet grass I'm keeping for my crew!  Awesome for cats, the organic greens can also be offered to dogs and small pets.  My greens are still growing, but I'm excited to see what my rabbits think of them.  The cool thing about this pet grass package is that you don't have to worry about having gardening supplies - the grass can be grown directly inside the package!
Multipet Fatty Bird: This toy is really cute!  The stuffing is made from recycled water bottles infused with catnip.  I'm sure the feathers would be a lot of fun for a playful cat!
Despite not owning a cat, I was impressed by the goodies in our September meowbox!  They seem to be high quality, and the items were diverse.  I'd guess that even if you have a picky kitty, he'd find something he enjoys in each month's meowbox.  I'm excited to send most of the goodies we received on to my sister and Keegan.  I know he's been destroying toys left and right, so I'm interested in seeing how these ones hold up.  I'll let you all know!
If you want to check out meowbox for yourself, you can visit them on their website, Facebook, and Twitter.  If you decide to check meowbox out for yourself, use the code PAWPRINT10 to get 10% off your first subscription!  I'd love to hear from anyone who's tried meowbox before!  Comment below and let us know what your cat(s) thought.