Happy Friday!  Today's the day you finally get to learn about our new addition - the "big news" I've been alluding too for over a week now!  Last Sunday, September 27th, we welcomed home our newest family member - Fenrir!
We've known for a long time now that Kitsune wasn't destined to be an only pup forever.  He's brought so much joy to our lives, and loves other dogs so much, that getting a second dog is something we've been planning for quite a few years now.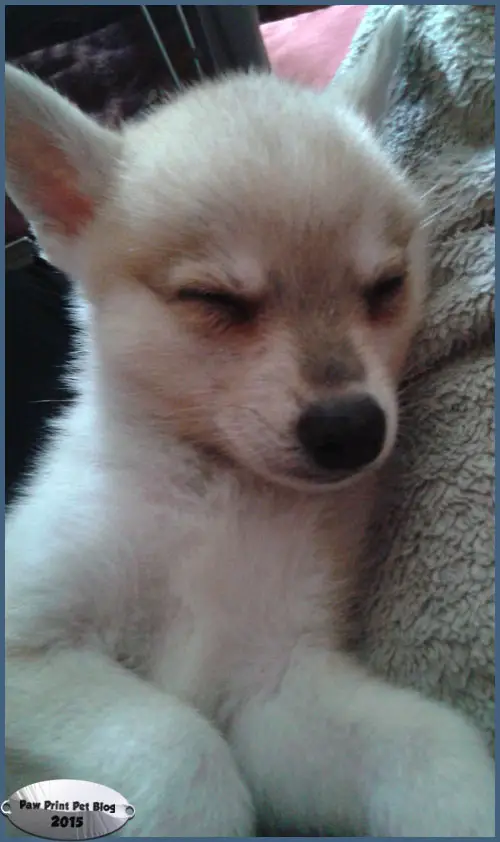 This little guy has been such a joy so far!  He's been here less than a week now, but is currently going on day 4 without any accidents!  He sleeps well at night too, only getting me up 2 or 3 times a night when he needs to use the bathroom.  Such a big difference compared to when Kit was a puppy!  Kit was such a terror - it took me 8 months to fully potty train him and I barely got any sleep for 2 weeks after he got here.
I work from home, so have plenty of time to spend with our new baby - but the rare times I do have to leave him home he's done amazingly well.  He pretty much just sleeps while I'm gone, saving up all his puppy energy until I'm back home.
Puppy energy is something he has in bucketfuls, despite the fact that at his last weigh in he was under 3 lbs.  He is loving all the toys we have here!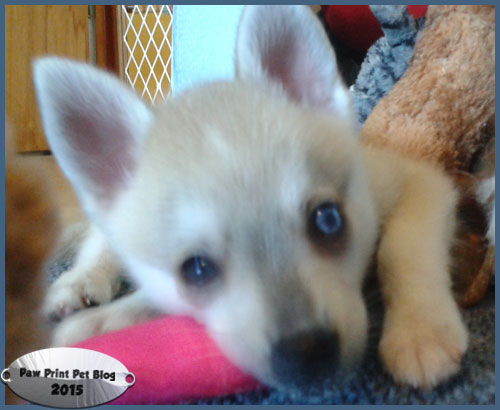 Kitsune was very unsure of the new pup at first.  To be honest, he didn't really want much to do with him.  We let Kit have his space, not wanting to stress him out too much.  He seems to be getting a bit more comfortable with the situation everyday.
The first day we brought Fen home Kit wouldn't go near him.  Now he's comfortable hanging out near him as long as the pup doesn't get too hyper.  When Fenrir does get too rambunctious, Kit just gets up and walks away.  He's such a good boy.
I can't wait until Fen gets the all clear from the vet to start going on regular walks.  He's only had one set of shots so far, and per our vet we should wait to take him into areas where lots of other dogs are.  Well we live in the city, so that's pretty much everywhere other than our yard.  It will be so much fun when I can finally take him to the park with Kitsune.  I think he'll really enjoy it, plus it should help him get out some of that puppy energy.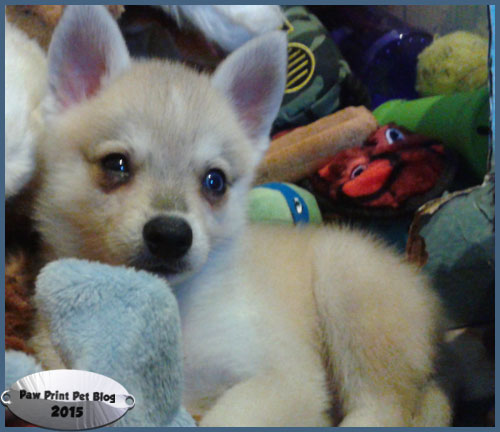 I've been trying all week to get better pictures of him.  He is a beautiful dog and the pictures I've taken so far don't do him any justice.  He's just constantly on the move, so getting pictures that aren't either really blurry, or just of him sleeping is a challenge.  I want to take a lot of pictures/videos of him as he grows up.  He's only been here since Sunday, but already I've been noticing little changes in how he looks - mostly that his fur seems to be getting darker.
When Kit was a puppy I didn't have my blog yet, so didn't really document much of his puppyhood other than taking hundreds of pictures.  I'm excited to be able to write about our adventures raising Fenrir.  It will be so much fun to look back on once he's all grown up.  If you want even more Fenrir than my blog provides, check out our Youtube channel.  I've been taking so many cute puppy videos and I'm going to start uploading a bunch of them, but most likely won't share all of them here.
Thanks for reading and helping us to welcome our new family member!  Anyone who stops by once in awhile will be seeing plenty of this little guy from here on out.