Happy Friday!  I hope everyone is looking forward to a fun weekend.  I know I, for one, could really use the time off!  Working with a new puppy underfoot hasn't been the easiest task.  Yesterday I checked our Poock Perks tracking number and was excited that it was scheduled to be delivered.  Despite technically being for Kit, I was hoping that something in the box would catch Fen's interest and give me a couple minutes reprieve from his crazy puppy antics.
Last month was the first month we reviewed Pooch Perks.  You can check out our September review for more details about their size options, pricing, etc.  Since I already went over a lot of that stuff last month, this month I want to jump right into sharing what we received in our box this month.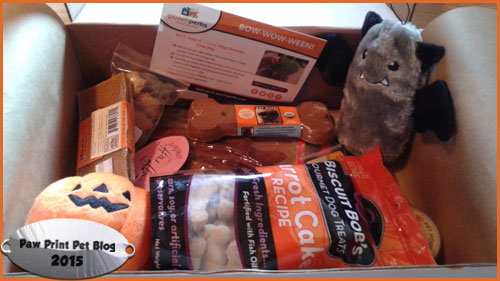 This month's theme was "Bow-Wow-Ween".  The box insert featured Halloween safety tips and a unique DIY dog costume idea.
Hard to believe it's already October right?  Before we know it we'll be celebrating Halloween and then starting to think more about the other upcoming holidays.  Here's what we got in our Halloween Pooch Perks box: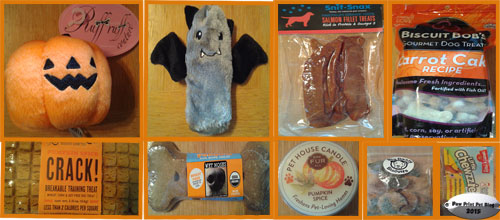 Ruff Ruff Couture Plush Pet Toy:  This plush has been a hit with both my dogs.  It's a cute pumpkin with a squeaker inside.  The fabric is soft and the toy is the perfect size and shape to play fetch with.
ZippyPaws Bat: Our little bat buddy didn't have a tag attached, but I was able to find it on Amazon.  It squeaks, but doesn't contain any stuffing.  It would probably be a great toy for a dog who likes to destuff toys.
Snif-Snax Salmon Fillet Treats: We got these same treats in our September Pooch Perks box.  I didn't mind getting them again, since Kit really enjoyed them.
Biscuit Bob's Carrot Cake Dog Treats: Kit can eat these, since they don't contain anything he's allergic too.  I've been hiding them in one of his puzzle toys to give him something to do when the puppy needs a bit of extra attention. 

Bubba Rose Crack! Training Treats: I couldn't find these exact treats on Amazon, so linked to another type of treat from the same brand.  These I've been using as training treats for Fen.  They contain eggs so Kit can't have them, but Fen seems to enjoy them which is saying a lot because so far he's been a bit on the picky side when it comes to food.
Wet Noses Organic Pumpkin Dog Bone: I haven't given this bone to my dogs yet.  It's pretty big for my smaller dogs.  I'm going to give it to Kitsune but haven't done so yet because I've been working on training the two boys together and that has meant lots of snacks/training treats.  I don't want to overfeed Kitsune too much!  Although I'm sure I could break this in pieces and give him a little at a time.
Pet House Candle:  Call me greedy, but this is my favorite item in this months box.  It's a 42g sample candle in the scent pumpkin spice, and it smells so good.  It says it freshens pet loving homes but I think anyone, pet owner or not, would enjoy the scent.
Big Daddy Biscuits:  Made of natural, organic ingredients in GA, I love that Pooch Perks features small businesses.  From the website, the treats seem like they are high quality.  However, the sample bag I got didn't say what flavor the treats are or list the ingredients.  To be on the safe side I'm not going to let Kit try them.  I might see if Fen likes them, since I don't have to worry about food allergies with him.
Little Chewzzies:  Lastly we got a sample bag of chicken Little Chewzzies treats.  We got 4 little bone treats in our sample bag and Fen enjoyed them.  With a new puppy to train, even small samples of treats come in handy!
Lots of goodies in our October box!  There's a pretty good amount of verity with toys, different types of treats, and even something for me (the candle).  Now that we have Fen we don't have to worry so much about getting treats we can't use, since he doesn't have food allergies.  But I do feel like, had I still just had Kit, I would have been happy with the amount of stuff he can have from this box.
Interested in learning more?  You can visit Pooch Perks on their website, Facebook, Twitter, Pinterest, or Instagram.  When you're ready to try out Pooch Perks for yourself, use the coupon code "PawPrintPet" to get 25% off your order!
**We received our Pooch Perks box for free in exchange for our honest review.  As always, Paw Print Pet Blog only shares products we feel will be of interest to our readers.  This post contains affiliate Amazon links.**