I can't believe that this month, Paw Print Pet Blog turns 5 years old!  The first post I ever posted here went up on October 28th, 2010.  To celebrate, I'm finally having our banner redone, and a logo made.  Despite updating the layout of the site a couple of months ago, we've been using the same banner for 5 years.  I'm (slowly) working on a new intro video for our Youtube page, and this past weekend I spent some time cleaning out my "spare pet supplies" drawer so I could put together a giveaway.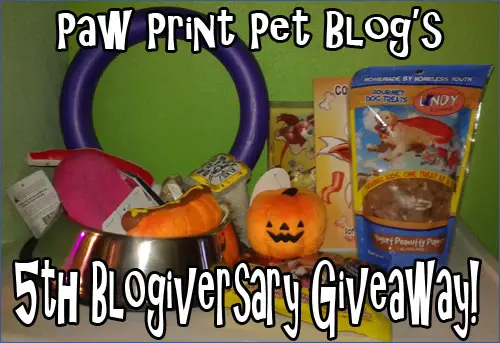 Tell me I'm not the only one with a spare pet supplies drawer?  Mine is mostly comprised of extra dog supplies.  Every once in awhile I clean out the drawer and the stuff I haven't used either gets sent to friends/family members for their pets, donated to the shelter, or given away on my blog.
I'll just quickly go over what's in this giveaway.  Some of it you might have seen featured/reviewed on my blog already.  The first item is Puller toy.  They normally come in sets of two but I'm giving away a single one.  It's new but doesn't have any tags.
The next thing is a stainless steel dog bowl.  It's also new but doesn't have any tags.  The giveaway will include 6 (!) dog toys.  All are new.  All but two have tags.  They'd probably work best for small/medium size dogs since the toys aren't huge.  There are also two bags of treats - one is all natural chicken and sweet potato flavor and the other is peanut butter yogurt treats.
Lastly, the giveaway will include an autographed/pawtographed copy of my book, Cooking with Canines, and a set of dog themed cookie cutters so you can make your dog delicious snacks at home!
There are 10 items total.  The giveaway items can be shipped anywhere within the continental US.  If you don't live in the continental US but still want to enter, I'd be happy to ship the prize to a rescue of your choice, or a friend.  The giveaway will end at 12am Monday, October 26th.  The winner will be contacted via email and will have 48 hours to respond before a new winner is selected in their place.  We'll announce the winner here on the 28th, as well as show off our new site art!
Things have been a bit hectic here lately, mostly due to boring stuff like working lots of extra hours, and of course we recently decided to add a puppy to the mix!  It hasn't been as easy as it once was for me to get quality blog posts out on a regular basis, but still I enjoy blogging here so much.  I want to thank all of you who have taken the time to stop by, comment, chat on the forums, or say hello on social media over the past 5 years!  Sharing experiences with fellow animal lovers has always been a fun/rewarding experience for me and I'm hoping to be chatting with you all here for many more years to come!