Ah Monday - everyone's favorite day of the week.  😉  I wanted to get this review posted last Friday but got assigned extra hours at work and of course Fenrir, who's going on 11 weeks old now, has been keeping me crazy busy.  The Paw Print Pups got their October Pet Gift Box, which was Howloween themed, the other week and I wanted to share with you all what we got!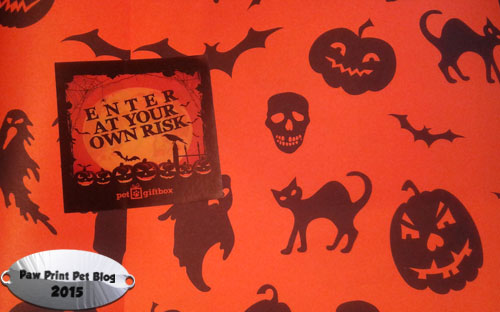 All the pet subscription boxes we get are technically for Kit, but he shares with his new little brother - especially when we get treats Kit can't have or toys he doesn't like.  Kit is the pickier of my two dogs, and also has food allergies.  I thought about switching over at least one of my subscriptions to cater more towards Fen - but figured I'd be more likely to get stuff they can both enjoy if I keep getting them for the bigger of the two.  So my subscriptions are sent for a 20 lb dog.  Pet Gift Box lets you select from three dog size ranges, and also offers boxes for cats!  Here's what we got in our October box...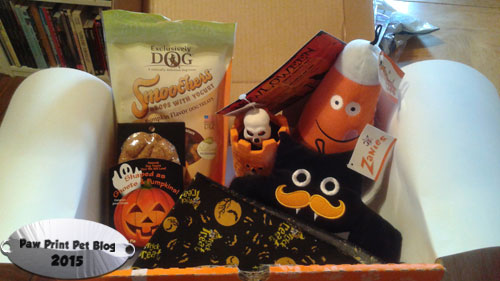 Bark Bars Pumpkin Pie Cookies:  These treats were shaped in cute Halloween designs - one was a ghost and the other was a pumpkin.  They didn't contain eggs or poultry, so Kit could have them.  I gave one to each dog and honestly neither of my guys seemed too crazy about them.  This brand does have other flavors - I have a feeling my dogs may have enjoyed a meat flavor more than they did the pumpkin.
Exclusively Dog  Smoochers Pumpkin Treats:  These treats smell really good - like pumpkin pie!  They are made in the USA, and wheat, corn, and soy free.  This month's box made me realize that unfortunately, I don't think my dogs are big pumpkin fans.  Kit ate one of these, a bit unenthusiasticly.  Fen seems to think they are toys rather than treats.  He enjoys throwing them around more than actually eating them.  Maybe pumpkin is an acquired taste for dogs?
Halloween Bandanna:  This item didn't have any tags at all so I can't tell you to much about it.  It's cute, but small.  I think, because it's so small, it would look a bit silly on Kit, but will be cute on Fen!
Grriggles Candy Corn Toy:   This toy is a plush candy corn with a squeaker.  Ours has a cute smiley face on the front.
Zanies Peek-a-Boo:  Since this toy is rubber, we wouldn't have gotten much use out of it before.  Kit doesn't like rubber/plastic toys for some reason.  Fen, as it turns out, doesn't sure his prejudiced and has been having a lot of fun with this toy.  It has a really loud squeaker, which I think he's a fan of.
Zanies Crinkle Bat: This toy is stuffing free and makes crinkling sound.  Fen has been having fun with it.  He seems to enjoy the sounds it makes.
Just a quick note that the toys included in this months box were made in China, since I know some pet parents look out for that.
It's been kind of a weird month for us as far as testing toys goes.  Kit, my usual go to toy tester, hasn't been playing with toys as much now that he has a new puppy to play with.  I think once Fen gets older, and the boys are more used to each other, Kit will show more interest in his toys again.  For now really the only thing he wants to play with is Fen!  Fen is at that stage still where everything is a toy!  He's just as likely to play with a loose floor tile as he is a new toy.
Is everyone having fun getting ready for Halloween?  Do you dress up your pet, or give them any kind of special treats?
**We received our Pet Gift Box for free in exchange for our honest review.  We were not compensated for this review and as always, only share content we feel will be beneficial to our readers.