I'm continuing my "puppy diaries" - if this is your first time reading about the amazing sir Fenrir you can check out his introduction post here, and read about our first two weeks of life with Fen here.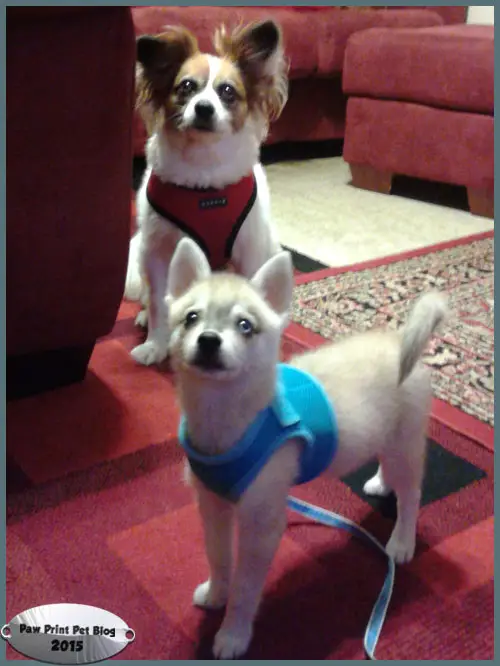 October 16th:  I want to shout it from the rooftops - My boys are getting along!  Since I'm pretty sure almost everyone I know is sick of me talking about my dogs all the time, posting about it here will have to do.
Kitsune, who will be 7 at the end of this year, usually loves other dogs, but unfortunately didn't seem as happy about our new addition as I was hoping he'd be.  He was very nervous around the puppy.  It was almost like he didn't realize that Fen was another dog, and just had no idea how he was suppose to interact with him.
Fen also had a bad habit of launching himself into faces - people's and dog's.  I don't blame Kit for not being a fan of that - I'm still sporting a couple of scabs on my face from Fen's puppy face attacks.  Luckily that's a habit we curbed pretty quickly.  He's also getting much better about not play biting.  Fen's better behavior, plus what we have dubbed "cheese therapy", have really helped Fen and Kit to start to develop what I think, with more time, will be a strong bond.
Other than cheese therapy, which is basically just a joint training session, I also do multiple supervised play sessions daily.  Kitsune doesn't seem nervous around his brother anymore - in fact he has been really enjoying himself when I let them play.  Fen chases Kit around, which Kit looooves.  He's always loved being chased for some reason.  It's so funny, watching little 3 lb Fen chasing after 20 lb Kit.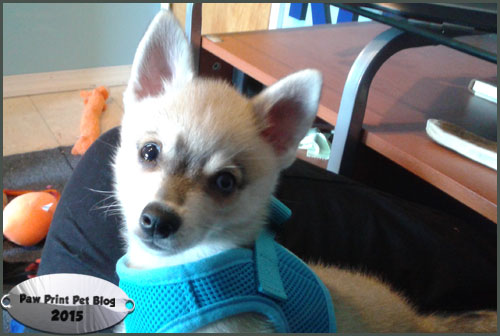 October 21st: I feel like I've kind of slowed down with the updates lately!  Not because progress isn't being made, but perhaps because the novelty of having Fen is starting to wear off?  I don't mean that in a bad way!  We've had him for almost a full month now and I'm actually quite glad that we all seem to be getting used to our new routine.
Mr. Fenrir will be 11 weeks old tomorrow.  He definitely went through a bit of a growth spurt recently.  He didn't get any wider, so his harness still fits the same, but he got taller and longer.  His coloring is changing and his tail grew!
He knows 'sit' and 'down' now and is getting better with potty training.  Since he hasn't had all his shots yet I've only been taking him out in the yard - but I can't wait until I can walk him!  Yesterday he met our neighbor's big dog (who is healthy and has all her vacs) and did really well.  Things with him and Kit are going well too - slow, but well.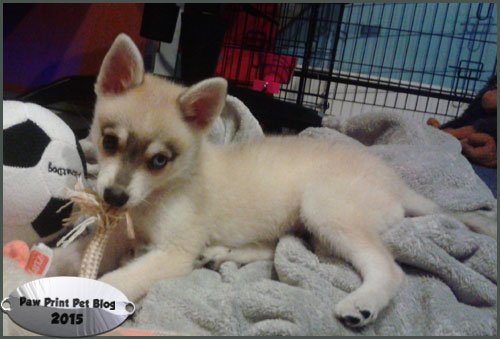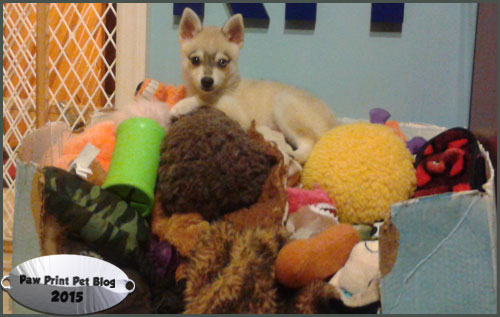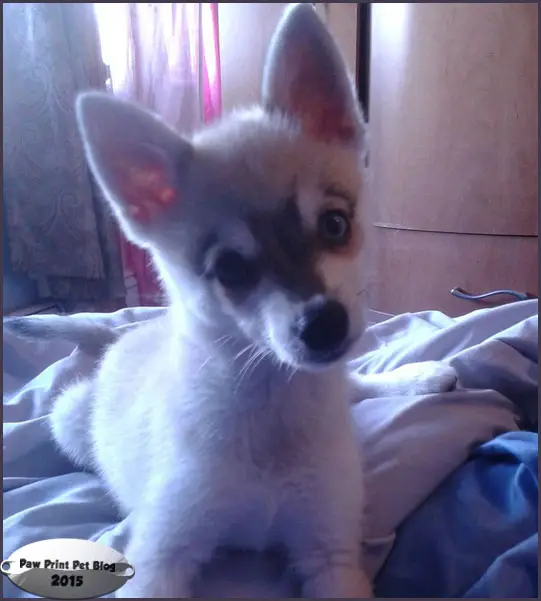 October 22nd: FenFen is 11 weeks old today!  I feel like someone took my puppy and replaced him with a very similar puppy!  He's growing like a weed, and has SO much energy today.  He did really well playing with Kit this morning, and seems to finally be grasping the concept of what 'no' means.  He hasn't been as destructive, and isn't biting quite as much.
But all day today he's been getting upset about having to spend time in his crate.  When we first got him I was amazed at how easy it was to get him adjusted to spending time in his crate.  But today he wants none of it.  He just wants to play!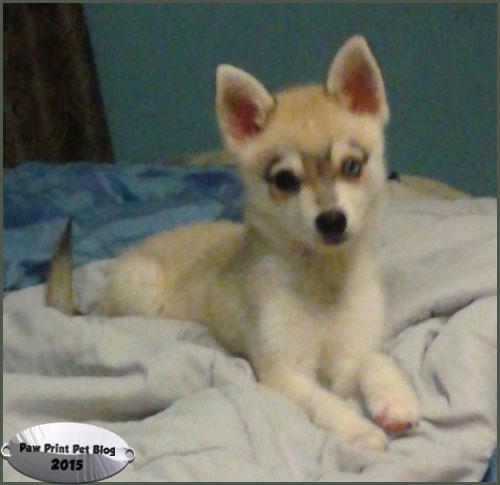 October 26th: Tomorrow we'll have had Fen for a full month!  That went amazingly fast.  I was going to post this on Wednesday but then realized that Wednesday is Paw Print's 5 year anniversary, and I already have a post scheduled for that day.  So I'll keep this post going a bit longer before posting it.
My little guy is growing so much!  I tried to weigh him at home last week but using my food scale to weigh a very wiggly puppy didn't work out so well.  I'm taking him to the vet next week so I guess I'll wait till then to know how much weight he's gained.
So Fen has taken a sudden interest in wires lately and I had to spend a good chunk of time over the weekend puppy proofing all the areas with wires.  He actually chewed our Roku wire in half the other week.  It sucked, and I felt bad, but no harm done in the long run.  Thankfully he wasn't electrocuted or anything, and I was able to replace the wire.  Lesson learned - he won't be able to get to any wires again.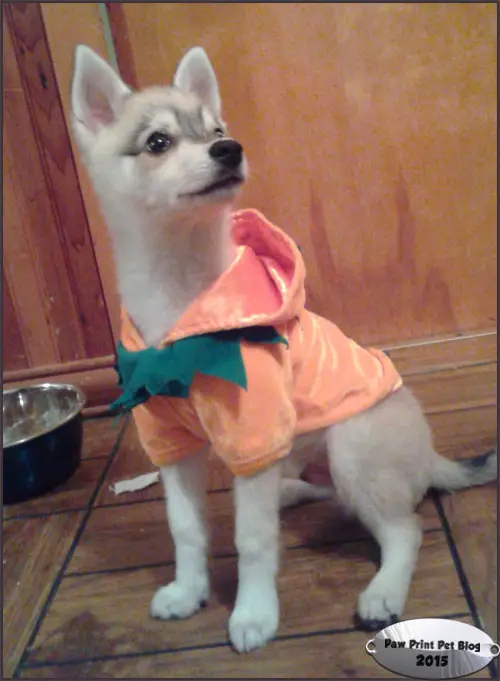 November 1st: Yesterday was Fen's 1st Halloween!  The pups got some homemade pumpkin treats and we dressed them up for a short time.  Fen was a pumpkin.  I didn't buy the costume for him, it's actually one I've used on the bunnies in the past.  Yeah, he fits into a costume that fits my 2 lb bunnies.  He's small but is for sure getting bigger and stronger.
Wednesday he's going to the vet for his 12 week checkup/shots.  I don't want to rush his puppy hood but I'm really looking forward to when I can (finally) start taking him to the park.
This is getting long!  I'm going to schedule it to post tomorrow and will start a new post of Fen updates.