With the addition of a 3 month old puppy into our pack, treats are going fast here!  I usually make my own dog treats, but have been so busy lately!  At the rate Fen is going through treats (because I'm working on training him), I'd be in the kitchen baking almost constantly!  While I'm sure the dogs would love that, I just don't have the time.  Hey, someone has to work to pay the vet bills.  Puppies are expensive!
When One Dog Organic Bakery asked if we wanted to try some of their treats, we jumped at the chance!  I had actually seen other bloggers review their products before, but had never gotten around to buying anything for my dogs.  But when you don't have the time to make your dog homemade treats yourself, One Dog Organic Bakery's dog treats just might be the next best thing!
Their treats are organic, GMO free, and sourced from America.  One thing I really loved was their willingness to work with me in regards to Kitsune's food allergies.  My buddy has a sensitive tummy, and is very allergic to poultry and eggs.  One Dog Organic Bakery took note of this and made sure to send us treats that were egg free, despite normally using eggs in their recipes.  This is the first time I've ever worked with a company that was actually willing to cater to my pup by altering their ingredients!  Normally if a treat contains an ingredient Kitsune can't have, we're just out of luck.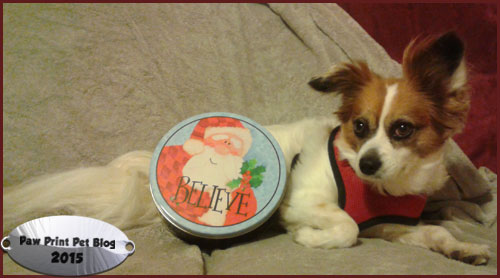 One Dog Organic Bakery sent us one of their adorable holiday keepsake tins, which included three kinds of treats.  We got Peanut Butter Honey, Pumpkin Spice, and Ginger Snap cookies.  Despite not containing any eggs the treats held together well.  Both my dogs enjoyed them!
Both Kit and Fen seemed to like the Peanut Butter Honey treats the most.  The treats were on the hard side, which Fenrir had trouble with at first, but he eventually figured it out.  I think the only reason he had issues was because he is so young.  Kitsune surely didn't have any trouble crunching through the treats!
I love the tin that the treats came in.  The boys quickly disposed of its contents, and now I have a cute Christmas tin which can easily be repurposed.  If tins aren't your thing don't worry, One Dog Organic Bakery has a lot of treat/packaging options.  They also sell toys and pet supplies.
I would very highly recommend One Dog Organic Bakery!  With the holidays fast approaching, make sure to check out their holiday store!  They have a lot of products that would make amazing holiday gifts for the furry loves in your life.
Comment below!  Have you ever purchased anything from One Dog Organic Bakery?  What did you think?  Have you started to think about holiday shopping (or even already started your holiday shopping) or do you think it's still a bit too early for all that?