Hey everyone!  Happy Monday.  I hope everyone's week is off to a good start.  My day today has been a bit hectic - I feel like I haven't gotten much done other than walking dogs and wrangling puppies.  Anywho - I recently learned of a pet supplement company, NuVet Labs, that I wanted to tell you all about.  Make sure to read this post till the end.  I have an awesome giveaway for those of you interested in trying out NuVet products for yourself!
When the awesome people over at NuVet asked me to try out their supplements, I originally wanted to try them with Kitsune.  Unfortunately I didn't look closely at the NuVet ingredient list until after I already had the products.  Both the supplements I received contained ingredients that Kitsune can't have because of his food allergies.  Luckily our new puppy, Fenrir, doesn't have any diet restrictions!
NuVet Labs offers a variety of products, including supplements, shampoos, an organic stain/odor remover,  ear cleaner, and a hot spot treatment.  For this review we're going to concentrate on their supplement NuVet Plus.  We'll also be giving away two bottles of NuJointDS, a double strength hip and joint supplement!
NuVet Plus is a supplement designed to provide your pet with essential nutrients, while also boosting their immune system.  It contains not only vitamins, but also minerals, herbs, enzymes, and antioxidants that all work together to improve your pet's overall health.  NuVet Labs uses high quality, human grade ingredients in their supplements.
I really wish I could have tried this product with Kitsune because his fall allergies have been acting up, and NuVet Plus says it can help with allergies.  Go figure I'd have the dog with allergies to ingredients in something that might help his allergies.  Finding foods/supplements Kitsune can have is a real challenge.  But I digress...
Since Fen is so small (still under 5 lbs) the dosage of NuVet Plus for him is only half a tablet a day.  He eats them without any issues.  I can't really say with and level of certainly if the supplements have helped him since Fen is just a puppy, and was healthy before we tried the supplement.
But I do like the idea of having vitamins for my pups.  Especially since I feed a partially homemade diet, and one thing I worry about is whether or not my boys are getting everything they need from their food.  If you're interested, you can check out the ingredients in NuVet Plus and learn a bit more about what each one of them is for here.I really like that each ingredient is explained, so you know exactly what you are giving your pet, and why.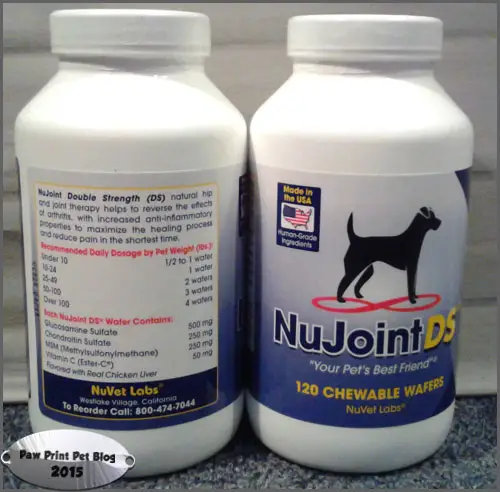 And now what you've probably all been waiting for - The giveaway!  I'm giving away a bottle of NuVet Plus, plus a bottle of NuJointDS!  NuJointDS is formulated to help protect your pet's joints, and to reduce inflammation and improve mobility in pets with existing joint issues.  Each bottle contains 120 chewable wafers.  To join, enter via the Rafflecopter below.  I'll ship to anyone within the continental US.  The winner will be notified via email, and will have 72 hours to respond before an alternate winner is selected.  Good luck!
** Update - there was a slight change to the giveaway.  We were originally giving away two bottles of NuJointDS, but after speaking with a rep from NuVet Labs I updated the giveaway to be for one bottle of NuJointDS and one of NuVet Plus.  Don't worry if you entered the giveaway before the update, all entries have been saved!