Hello!  Hopefully no one is getting sick of product reviews, I know I've been posting a lot of them lately.  With the holidays fast approaching I think a lot of companies are eager to get their products out there - which isn't a bad thing considering all the pet parents who will be looking for unique gift giving ideas.  Today's review isn't necessarily tied to the holidays, since I've been reviewing Pooch Perks boxes for a couple of months now, but I do think they'd make fun holiday gifts!
You should still be able to use the coupon code "PawPrintPet" to get 25% off your first Pooch Perks order if you're interested in trying them out for yourself.  They have a couple of different box sizes/prices.  With costs ranging from $20 per month to $50 a month, there are boxes to fit almost any budget.  To give you an example of the type of products you'll receive, here's what we got in our November box.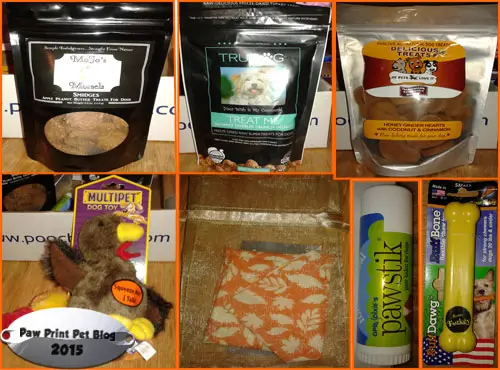 MoJo's Morsels:  These were the first treats to disappear after we opened our box!  The flavor we got was Apple Peanut Butter.  The ingredients list was short, including just apples, oats, and peanut butter!  The treats are made and sourced in the US.  Both of my dogs really enjoyed these treats.
Trudog Treats:  Next up we got a bag of freeze dried turkey treats.  Fenrir has been working on making this bag of treats disappear.  Kit can't eat turkey, but Fen really likes these treats.  They are made from cage free turkey, again in the US.  The pieces are on the smallish side which I like.  These make good, high quality, training treats for my hyper pup.
My Pets Love It Treats:  We actually just finished this bag of treats this morning!  They were heart shaped honey ginger (with coconut and cinnamon) treats.  They contained egg so I couldn't let Kit have them, but Fen enjoyed them.  These treats were pretty big and Fen is still a tiny little guy, so I ended up breaking the treats up and giving them to him in smaller pieces.
Multipet Turkey Toy: This thing is hysterical.  I think I got a bigger kick out of it than the dogs did.  It says it 'talks', so when I squeezed it I expected it to make turkey noises.  Instead of sounding like a real turkey, it sounds like a guy pretending to be a turkey.  It's basically a man with a deep voice saying "gobble gobble...".  It's really funny, I'll try to get a video at some point.  This toy is made in China.  My dogs have so many toys already I've been mostly donating any new stuff we get, but this one really made me laugh so I did end up keeping it.
Collar Me Posh Bandanna: This is a really cute double sided bandanna.  Rather than having ties that you use to put it around your dog's neck, you can slip your dog's collar through the top of the bandanna.  I really like that feature, although I haven't used the bandanna at all because it doesn't fit Kit's collar and Fen actually doesn't even have a collar yet (just a harness).
Opie&Dixie's Pawstik: We haven't used this yet, but we got a tube of paw balm.  With the weather getting colder, and four extra paws to care for, I'm sure this will come in handy this winter!
RuffBone:  This chew says it's roast turkey flavored.  It's meant for chewing (or playing with) but you shouldn't let your dog actually eat it.  I'm not usually crazy about this type of chew, but I have a four month old puppy.  Ah!  Anything that can keep him busy for awhile is amazing.  He hasn't been overly interested in this, but he did chew/play with it a bit.
That's it for November's box!  We had a lot of fun with it and enjoyed the fall/Thanksgiving theme.  You can check Pooch Perks out for yourself if you are interested in learning more.   We've been receiving boxes for a couple of months now and have been having a lot of fun with them.  I do think a Pooch Perk box would make a great gift for a fellow dog lover, or get one for your dog!
For anyone who has been missing our videos - sorry about that!  It's something I've really been wanting to get back into doing but I just haven't had a lot of extra time lately.  Recording videos is one thing, but editing them afterwards is very time consuming.  Luckily Fenrir isn't getting any younger, so as he grows and becomes less needy I'll hopefully have more time and will be able to start posting weekly videos again.
Comment below - Have you started your holiday shopping already?  What are you getting for your pet(s)?