It's been awhile since I made a "wordless" Wednesday post.  This one is also a bit of a throwback.  Notice I said "puppies" in the title?  Don't worry, I haven't gone completely insane and adopted another puppy.  Fenrir turned 14 weeks old on Sunday!  We have a picture of Kitsune from when he was 14 weeks old up on our refrigerator.  I wanted to see if I could get a similar picture of Fen.
Here's the picture of Kitsune...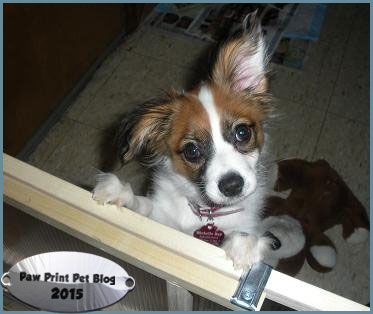 And my attempt to recreate it with Fen...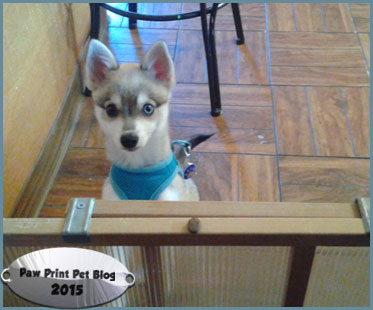 I didn't do an amazing job, I know.  Fen is such a wiggle butt it's REALLY hard to get pictures of him where he doesn't just look like a grey and white blur.  But that gate they are both standing up on is the same exact gate.
I think, at 14 weeks old, despite being bigger, that Kitsune looked more puppy-ish.  Maybe it's the huge ears?  Fenrir at 14 weeks is for sure smaller than Kitsune was at that age.  I don't think he's going to be as big as Kit is.
Having Fenrir around brings back so many fun memories from when Kit was a puppy.  And of course now Fen, Kitsune, and the rest of the Paw Pack can make new happy memories all together.  Do you have a favorite picture of your pet from when he/she was young?  Did your pets change a lot as they grew?