As I'm sure all of my American readers are aware, tomorrow is Thanksgiving!  Our little family isn't really doing much to celebrate, other than enjoying some extra time together since my fiance has a couple of days off from work.  Tomorrow is a special day for us not so much because it's Thanksgiving, but because we will be celebrating Barnaby's 9th birthday!
I couldn't decide whether I wanted to post about Barnaby today, or just do a quick post wishing everyone a happy Thanksgiving.  So, as you can see, I decided to do both!  But this post is mostly going to be about Barnaby.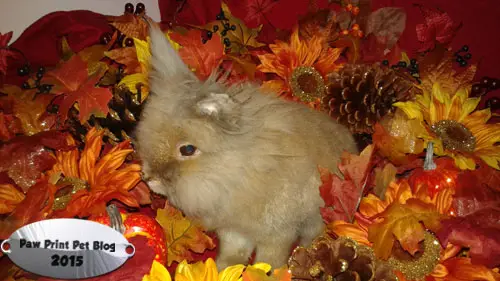 I can't believe my little man is 9 now!  My fiance and I moved into our current apartment in 2009.  I had a couple of pets that moved with us - Barnaby, Haku, and an aquarium.  Out of that original group, Barnaby is the only one still with us.
Barnaby is a senior bunny now.  Luckily, he's very healthy for his age!  He's always been a very hardy little guy. Celebrating our pet's birthdays is always a bit of a bitter sweet thing.  I love being able to celebrate another year spent together, but hate thinking about my pets getting old.  I can only hope that Barnaby's good health will continue, and he'll be with us for many, many more years to come.
From our pack to yours, we hope that you all have an amazing Thanksgiving tomorrow!  What is everyone doing to celebrate?