The weather here has been so weird.  Most days it defiantly doesn't feel like December.  Long gone are the cold, snowy Decembers of my childhood.  I took the dogs to the park in a t-shirt the other day!  But it has, slowly, been getting colder here.  The daytime temps are pretty moderate but it's been getting cold at night.  Kitsune actually seems to enjoy the cooler temperatures.  I think a major reason is because they allow him to comfortably do one of his favorite things - snuggling!
The other night I was working late and when I turned around to check on Kitsune this is what I saw...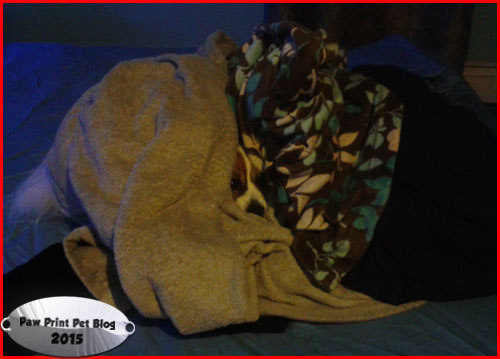 How adorable is that?  I had just washed all the blankets earlier that day and left them folded on the bed.  Kitsune made himself a little blanket cave, leaving a window for his head, of course, because how else would he keep an eye on everyone?  He's the cutest.  Now that it's not so hot anymore you pretty much can't sit down in our house without Kitsune joining you for a cuddle.  When he doesn't have anyone to snuggle with, he makes do with blankets - the more the better!
Our other little hooligan, Fenrir, isn't allowed on the bed yet.  He's just over 4 months old and potty training is going well, but we're not 100% there yet.  I've been slacking on updating my puppy diaries and will try to get the latest installment out soon.  But here's a picture of Kitsune and Fenrir to hold you over until then...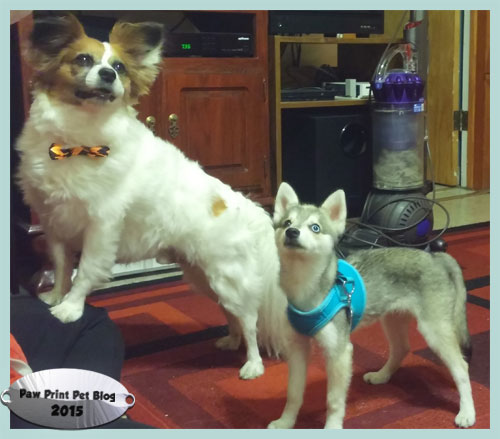 Please excuse our gross vacuum.  My fiance snapped this picture while I was doing a training session with the boys.  I don't have a lot of pictures of them together, mostly because they are both hyper little monsters that barely ever actually stay still long enough for me to get good pictures of them.
Comment below!  How has the weather been where you are?  Is it significantly different than what you remember from your childhood?  What is your pet's favorite type of weather?