Hello!  This post is a continuation of my puppy diaries - basically diary style updates on my adventures raising Fenrir, the Alaskan Klee Kai puppy!  If you are interested, you can check out the previous posts in this series here.  Without further ado, I'm just going to jump right into the latest series of updates...
November 5th:  Yesterday was Fen's 12 week vet checkup.  He's doing well!  Nothing major to report really, other than I know I mentioned previously that I'd let you all know his size once I got him weighed at the vet.  He's currently 4.5 lbs.  A little guy still, but healthy!
I'm not having a good day today.  My anxiety levels are just through the roof.  It's not Fen's fault, but is just a combination of a lot of things.
I have to keep reminding myself to try to enjoy Fen's puppy hood rather than stressing about every little thing.  Easier said than done.  Puppies are stressful, especially for someone who already has bad anxiety.  But I know, rationally, that before I know it he'll be an adult and these early days are something I won't get another chance to experience with him.  This comes across especially clear when I look at Kitsune, who will be 7 next month!  7!  I don't know how that much time passed so quickly.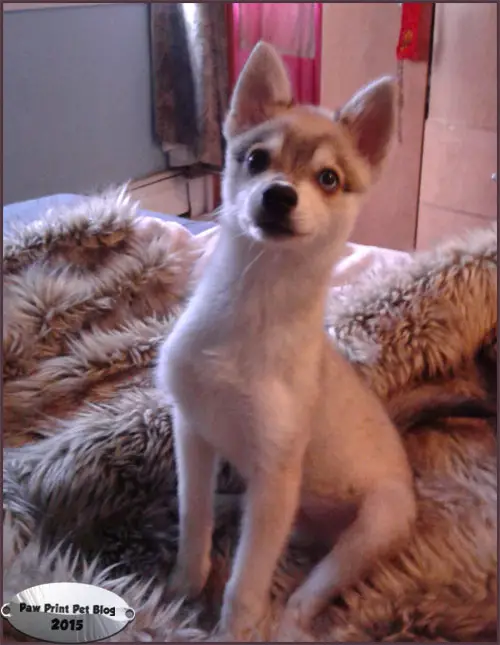 November 10th:  I'm not sure many of my readers will be interested in these posts, but I'm happy I'm making them.  I keep finding myself wishing that I had kept more notes on Kitsune's progress when he was a puppy.  It would be nice to have something to compare Fen's behaviors/milestones too.  Of course I remember the highlights of Kitsune's puppy hood, but that was almost 7 years ago now and a lot of the details have become fuzzy.  I don't think I'll be raising anymore puppies (other than Fen) anytime soon, but I'm sure I'll get another one someday and I think having these little diary entries to look back on will be helpful.
I'm not sure if it's because he's my second puppy and I have more dog experience now, or he's just an easier pup, but Fen has been much easier to care for than I remember Kitsune being.  I think my main struggle, currently, is managing two dogs at once.  It's something I'm sure I'll get used to as time goes by - but right now it still feels foreign.
November 16th: Yesterday Fenrir turned 14 weeks old!  He's doing well.  Potty training and his relationship with Kitsune are still works in progress, but things are headed in the right direction.  This morning I woke up around 7:30am which was strange, because Fen has been getting me up early.  He was silent when I woke up and although I was tempted to go back to sleep, I started getting worried that something was wrong and had to get up and check on him.  He was fine, of course, I actually woke him up!  One thing I've always appreciated about Kitsune is that he's not a 'morning dog' and almost never gets me up in the mornings.  I was hoping that Fen would be the same way, but of course being a puppy he can't hold his bladder as long as Kit can.  But he does seem to be starting to sleep later now, so hopefully that's a good sign of lazy mornings to come!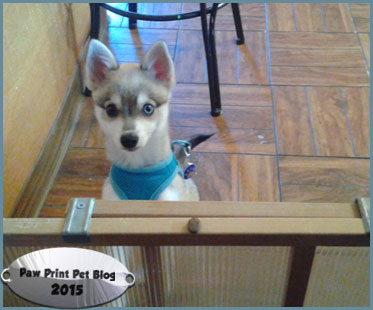 December 1st: It's been awhile since I posted my last puppy diary entry.  Things always get a bit crazy for me around this time of the year.  I've been picking up lots of extra hours at work, and of course getting ready for the holidays.  We put our Christmas decorations up last weekend!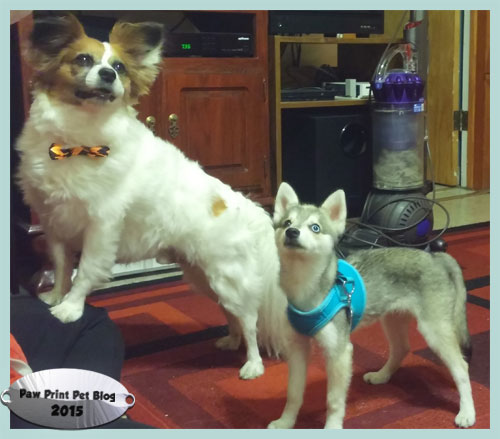 FenFen is doing very well.  I guess maybe I don't think to update about him here as often because at this point we're all used to having him around.  He's been with us for just over 2 months now, and recently turned 4 months old!  He got his last set of puppy shots (Core vaccines and rabies) at his last vet appointment.  He won't need to go back to the vet now, knock on wood, until the spring time when we'll start him on a heart worm preventive.  He weighed in at 5.2 lbs at his last vet appointment!
Our vet thinks he'll be small, 10 lbs or under as an adult.  I guess only time will tell.  However big he gets (or little he stays) is fine with me.  He's perfect.
Now that he's done with his puppy shots it means that I can finally take him out more.  We've introduced him to the park and the beach already.  He's not amazing at walking on a leash yet but I'm sure that will come in time.  Right now he's still very puppyish and just wants to run around putting everything in his month.  But he's a smart little guy and knows if he listens when I tell him to 'drop it' that he gets a yummy treat in return.
He really is very smart!  So far he knows sit down, drop it, relax (lay down), high 5, shake, come, speak, and we're working on stay and quiet.  He's been meeting lots of (healthy/friendly) new dogs and isn't quite as shy around new people.  He's not a huge fan of strangers petting him but he will go up to them and play with them.  He's crate trained, and although he's not 100% potty trained yet he's made a lot of progress.
I'd say that's not too shabby for a 4 month old!  I'm going to continue posting puppy diary entries but they most likely won't be all that frequent.  But don't worry, I'm planning on writing about Fen more often in my regular blog entries so everyone will be able to read plenty about him!  I'll try to post some new pictures/videos of him soon too.  Thanks for reading!