Usually I like to post my pet subscription box reviews on Fridays, but I feel like I've been getting so behind on my blog lately.  I wanted this review to go out last Friday, then got swamped with work and posted my latest update on Fenrir instead.  Those of you who have been considering, but putting off, checking out Pooch Perks should take a look this month - They are hosting an awesome BOGO campaign to help dogs in shelters get a little extra love this Christmas.
Up until December 23rd, for every Pooch Perks box purchased the company will donate a box to a dog in a shelter.  They have partnered with Paws 4 You rescue, a no-kill shelter in Miami, FL.  What an awesome way to get some goodies for your own spoiled pup, while also helping homeless dogs have a bit of fun for the holidays!
Still not convinced?  Take a look at what we received in our December box...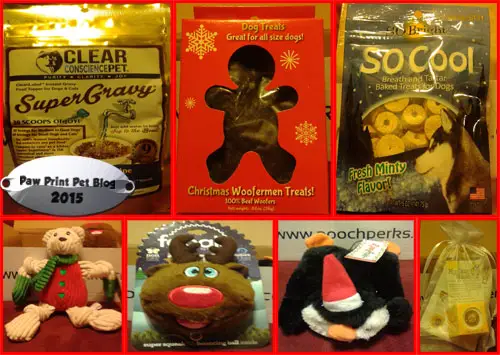 Clear Conscience Pet SuperGravy Pet Food Supplement: This 4.5 oz bag of SuperGravy provides medium to giant dogs 30 servings of gravy goodness.  Just add water to create a delicious meal topper that is made in the US from quality, highly digestible ingredients.  My dogs don't need food toppers to enjoy their meals, but I am sure Fen will enjoy this (Kit is allergic to some of the ingredients).
Christmas Woofermen Treats: We're already fans of Jones Natural Chews.  Kitsune enjoys their bully sticks and pigs ears.  We got Woofermen treats in our Pooch Perks box, which looked like jerky gingerbread men and are made in the USA, from beef sourced in the USA.  Kitsune and Fenrir both really enjoyed theses treats.
So Cool Breath and Tartar Baked Treats: Kitsune can't have these because of his food allergies, but Fen likes them.  They are made in the USA and are supposed to help freshen dog's breath.
Hugglehounds Knottie Toy: Next up we got a cute Christmas knottie bear.  Kitsune has an impressive bear collection, and was happy to add this one to it.  This toy is made in China.
Faballs Holiday Ball:  Our Faballs reindeer ball is made of all non-toxic materials, including a squeaky bouncy ball on the inside!  Fenrir really likes this toy.  The ball underneath the fabric has kind of a soft/spiky texture that I think might feel good on his teeth/gums.
Zippy Paws No Stuffing Penguin:   This toy is cute, but it's also made in China and doesn't seem all that durable.  The penguin's head is kind of floppy and the Santa hat is attached with plastic swing tag type fasteners.  Otherwise the toy looks ok, it has two big squeakers that I think Kit would really enjoy, but I haven't given them the toy mostly because of the small plastic pieces.
My Dog Nose It! Sun Protection:  Sun protection for your dog's nose!  I haven't tried this product yet, but was impressed that Pooch Perks included it in this month's box.  It came in a cute gift bag and is made in the US.  I'm sure we'll get use out of this in the future, most likely during some of our many beach trips.
If you're interested in trying out Pooch Perks for yourself, remember that because of their BOGO event this is a great time to do so!  You should still be able to use the coupon code "PawPrintPet" to get 25% off your first Pooch Perks order.  They have a couple of different box sizes/prices.  With costs ranging from $20 per month to $50 a month, there are boxes to fit almost any budget.
**We received our Pooch Perks box for free in exchange for our honest review.  As always, we only post products that we feel our readers will be interested in.  All opinions expressed are our own. **