Kitsune is my Yuletide puppy.  He was born very early in the morning on December 26th, 2008.  This past Saturday we celebrated his 7th birthday!  I think I say this every year, but it's so crazy to me that 7 years have gone by already.
We don't usually go overboard celebrating Kit's birthday, especially since his birthday is during Yuletide and Santa brings him gifts on the 25th.  But he does get one or two birthday presents, and an extra special meal to celebrate his special day.  This year he got two new toys, including this giant teddy bear...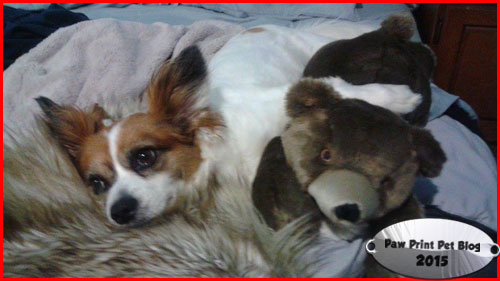 ...which he really seems to love.
Every year on Kit's birthday, starting on his first, I've created slideshows with pictures that I took of him throughout the year.  Most of his birthday videos can be found on Kitsune's Youtube Channel, since I uploaded them before the creation of the Paw Print Pet Blog channel.
This year's video is a few days late.  I had over 1,000 pictures and videos to sort through to create it!  I feel like I could have done a better job on it - I was a bit rushed since I wanted to finish it ASAP.  I might go back and edit it at some point, but this is what I have for now...
For his birthday dinner Kitsune, Fenrir, and my fiance all shared a steak.  We also had fresh green beans and mashed potatoes.  I think Kitsune's birthday meal was his favorite part of the day!
Here's to many, many more happy, healthy years with Kitsune!  He makes my fiance and I so happy.  He's still as playful as a puppy, and is always up for a good snuggle.  This year I'm especially proud of Kitsune because he's been doing so well dealing with having a new puppy around.  Fenrir has the best 'big brother' to look up too.
Happy birthday, Kitsune!