Fenrir is just over 5 months old now!  Whether you chalk it up to good luck, strict puppy management, or the fact that he has about 50 million toys to keep him busy, so far we haven't had any major (or minor, really) causalities caused by puppy teeth.  Fenrir's currently still teething, and he's a mischievous little thing, but we've been able to keep those teeth of his off of things we don't want him to destroy.  Yesterday, for the first time ever, he stole one of my shoes!  I was watching him so he didn't have it for long, but he looked so silly with it I couldn't help snapping a few pictures before directing him towards a more appropriate chew toy.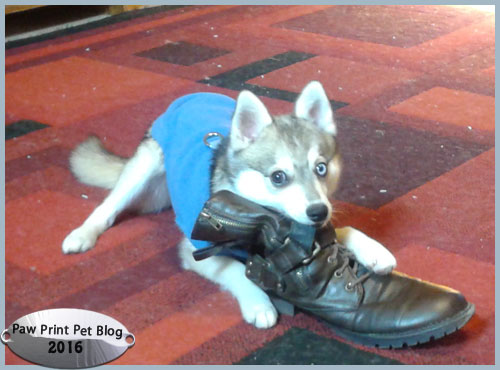 How cute is he?  You'll have to excuse how dirty my rug looks.  I swear I do vacuum regularly, but every little speck of everything shows up on that rug.  I think it's about the worst rug we could have bought for a house full of pets.  Oops.
Before you start calling me big foot - those are size 6 boots!  I think they look much bigger in the photos because Fenrir is such a small fry.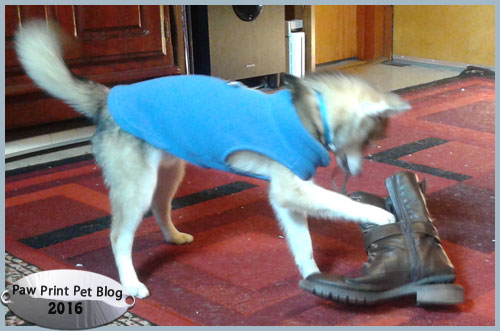 Pupper nutter is doing very well!  As you may be able to guess from his ensemble, it's been really cold here the past couple of days.  Despite looking like a husky, Fenrir gets cold quite easily.
I really can't believe Fen is 5 months old already!  The other day I was sorting through pictures/videos from last year and came across a bunch of baby photos of Fen.  He's changed so much in just a few short months!  Look at how adorable he was...
But, of course, he's only getting cuter with time!