Happy Monday (ugh).  This past weekend was the first two day weekend I've had in quite awhile, but I could have used about double (or triple, or....) the days off!  Fenrir, as he does, woke me up bright and early even on my days off, so I get to start my work week a bit (ok, more than a bit) on the tired side.  Luckily, our Pooch Perks box got here last week, so I have new stuff to entertain the boys with while I sleepily trudge through my work day.
For anyone new to my blog, Pooch Perks is one of the many awesome companies providing fun monthly boxes for pets!  I'm not going to go over too many of the details on how to sign up, etc, here because I've already written about them so many times.  Go ahead and take a look at some of my past Pooch Perks reviews if you want to learn more, or if you just want to see more examples of the types of items you'll get if you sign up.  You should still be able to use the coupon code "PawPrintPet" to get 25% off your first Pooch Perks order.
The theme for this months box was Dessert Party!  I thought it was a really cute theme, and appropriate for right after the holidays.  Who couldn't use a little dessert party pick me up after the excitement of the winter holidays is over?
This is what we received in our January 2016 box...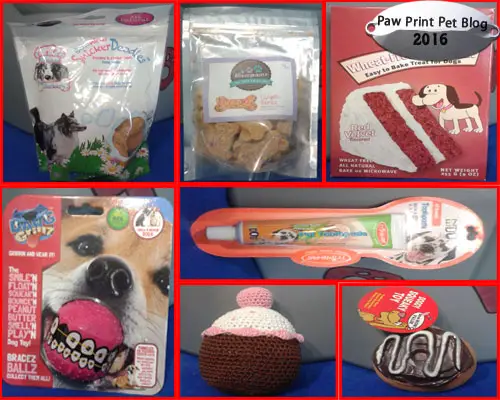 Paws Barkery Cookies:  We got Paws Barkery SnickerDoodles flavored cookies, aka honey and cinnamon.  These are made in America.  Kit couldn't try them but I let Fen try one and he liked it.  The cookies are a good size but can also be broken into pieces easily if, like me, you are giving them to a small dog.
Threepaws Gourmet Confetti Bones:  These Kit can have, and he enjoys them.  They are apple peanut butter flavored and are organic, grain, corn and soy free.  I liked that they contain turmeric powder.  I add turmeric (golden paste) to Kitsune's food normally but he isn't crazy about the taste and eats around it when/if he can.  But he didn't have any complaints about eating these treats!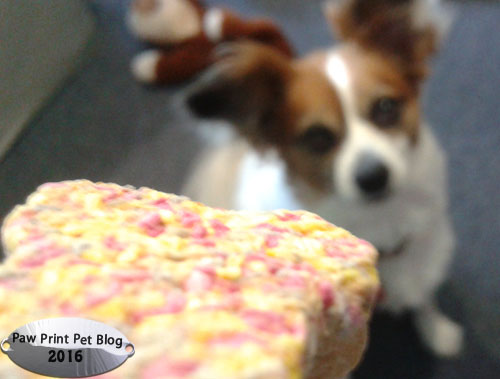 Puppy Cake:  Next up we got a red velvet flavored boxed puppy cake!  We've received this product before from other pet subscription boxes and Kit enjoyed it (I made his cake without the egg it says to use in the instructions).  The mix makes a 6' round cake, 8 cupcakes, or 24 mini cupcakes.
Dawg Grillz Bracez Ballz:  This is a BPA free plastic toy that, when your dog holds it in his mouth, is suppose to look like teeth.  It's a funny concept.  Kitsune won't play with plastic toys, though, and Fenrir I think is a bit small for the teeth to fit in his mouth correctly.  Fen still enjoyed playing with the toy though.
EZDog Toothpaste: We got made in the USA vanilla mint toothpaste!  Perfect for keeping those pearly whites clean after any dessert party.  I brush Kit's teeth at least a couple of times a week, and am working up to that with Fen.  I really like when pet subscription boxes send useful products like grooming supplies!
Crochet Cupcake:  The crochet weave of this toy is suppose to help clean dog's teeth.  You won't have to worry about cavities from this cupcake!  Fen and Kit both really like this toy.
Squeaky Donut: As the name suggests, this is a squeaky toy donut.  The squeaker is quite loud, which I'm sure many-an-annoying dog will appreciate!
Just something to keep in mind, while most of the treats we get from Pooch Perks are high quality and made in the US, a lot of the toys we get are made in China.  I know that's of concern to some dog owners.
I took a video of Fen playing with a couple of the new toys.  He was so cute - he couldn't seem to decide which toy he liked best, the crochet cupcake or the Grillz ball.  I feel like the crochet cupcake was the hit toy of this month's box - both my dogs have really been enjoying playing with it.
**We received our Pooch Perks box for free in exchange for our honest review.  As always, we only post products that we feel our readers will be interested in.  All opinions expressed are our own. **