I have to be honest - although I grew up with two football fanatics, I've never been all that interested in the sport.  I'll usually put the super bowl on, but even then it's more to catch the commercials.  Animal Planet's puppy bowl is much more my speed!  Despite this, we loved our January Tail-Gate Party themed Pet Gift Box!
We've been posting monthly Pet Gift Box reviews for awhile now - you can check out our past reviews here.Make sure to also check out our list of pet subscription boxes, we edit the list often to keep it up to date.  We've been reviewing boxes for small (20 lb) dogs, but Pet Gift Box offers boxes for larger dogs as well as cats!
Here's what we got in our Tail-Gate Party box...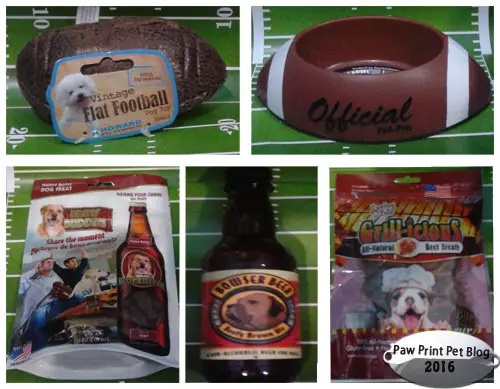 Vintage Flat Football: I could only find this in medium on Amazon, so I linked to that, but the ball we received is a small size.  My boys both really like this toy!  We actually already had a ball like this in a larger size, but my boys play with it so often that it doesn't hurt to have two!
Remarkabowl: I'm really starting to like when sub boxes send products other than just toys and treats.  In this box we got a really cute football shaped dog bowl.  It's the perfect size to give little Fenrir water.  I've been resorting to using smaller bowls for him because he's developed a habit of playing in his water, and smaller bowls = less of a mess for me to clean up!
Brew Buddies Malted Barley Treats:  Next we got a full (6 oz) size package of Brew Buddies treats.  They are apparently made with malted barley, the same stuff used in beer.  These treats are made in the USA.
Bowser Beer:  I've heard of 'beer' for dogs before but it's not the type of product I'd normally buy myself - more of a novelty item.  We got a single bottle of Beefy Brown Ale, which I am going to let Kitsune try.  The bottle is cute and made me laugh.  My fiance collects beer bottles and, once this one is empty, we're going to add it to his collection.
Grill-Icious Beef Treats: These treats are also made in the US, and contain only beef and sweet potato.  Both my dogs really like these!  The treats are a good size - not too big or too large - and are hard.  Kitsune finishes them pretty quickly but Fen actually takes awhile to eat them which I like.
I do want to briefly note that Pet Gift Box does sometimes send items made in China.  In this box that included the ball and the football dish.  I know that's something that some pet owners look out for.  The treats we've been getting from them, though, are made in the US.
Another touch down for Pet Gift Box!  They've really been scoring with their themes for a long time now.  Even when I don't end up using all the items in the box, I always have a lot of fun opening them.  My boys get so excited when the boxes get here!  Kitsune has been getting excited about mail for years, but Fenrir is just starting to grasp the concept that most of the boxes that come here contain fun things for him!
**We received our Pet Gift Box for free in exchange for our honest review.  We were not compensated for this review and as always, only share content we feel will be beneficial to our readers.