I recently came across an article that was published around Valentine's Day last year.  It highlighted the results of a survey about Valentine's Day spending in America.  Of course, the part that interested me most was about pets!  According to the 2015 survey, one in five people involve their pets in their Valentine's Day plans - normally involving their furry friends by purchasing them small gifts.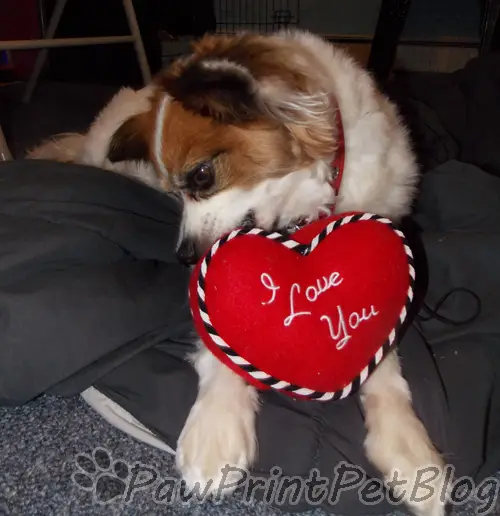 And why not - pets make amazing Valentine's!  As much as I love my fiance, he'll never be able to top the snuggling skills of my dog Kitsune.
Showing our pets we care doesn't necessarily have to involve our wallets.  A long walk, an extra few minutes of playing, or just snuggling up on the couch can be great ways to spend quality time with our pets.  But, at least once in awhile, it's fun to buy them gifts too!
Both my dogs really love their pet subscription boxes.  We currently get two boxes a month, one of them being from Pooch Perks!   We received our February Pooch Perks box last week and, quite fittingly, it was Valentine's Day themed!  Take a look at what we got...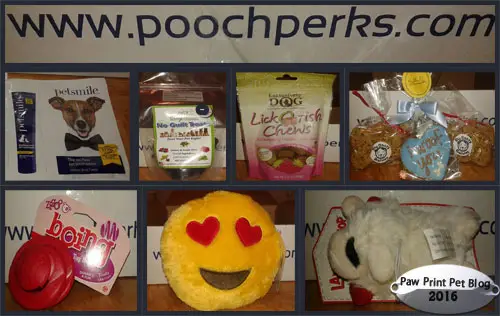 petsmile Pet Toothpaste: We only got a sample of this but I'm including it in our review because I love when pet subscription boxes include these types of products.  This toothpaste is London broil flavored, what dog wouldn't appreciate that?
Your Pet Chef No Guilt Treats: No guilt I assume because these treats are made in the USA, gluten free, grain free, and made from locally grown, all natural, fresh ingredients.  The flavor we got was "My Heart Beets for You", which are made from chicken, beets, apple, and kale.  Fenrir really likes these treats, and because of the high quality ingredients I feel good about giving them to him.
Exclusively Dog LickOrish Chews:  These treats are also made in the USA from natural ingredients.  Unfortunately, these weren't really a big hit here.  I wasn't particularly impressed with the ingredients, and the treats smell bad to me.  I would have been fine with them smelling bad if the boys had liked them, but neither of my two dogs really like these treats.  Kitsune won't eat them at all, and he'll eat almost anything.
Bubba Rose and Big Daddy Biscuits treats:  Next up we got an assortment of large dog biscuits.  The blue frosted treat is peanut butter flavored from Bubba Rose.  We got four large treats from Big Daddy Biscuits.  My only issue with the Big Daddy Biscuits is that the bags they came in don't list the ingredients, or even what flavor they are.  Since one of my dogs has food allergies, I don't feel comfortable giving him treats without being able to check the ingredients first.
Boing Ball: Next up we got a small sized Boing Ball.  This toy is made in the USA from material that reminds me of a Kong.  It floats, and is a fun tug toy.  Fenrir has been having a lot of fun with this.  He just finished teething but still seems to enjoy chewing on this toy.  I'm keeping a close eye on it, but so far it's been holding up well.
ZippyPaws Emoji Plush:  This emoji plush is really cute and perfect for Valentine's Day.  It's a good size, soft, and contains two squeakers.
Lamb Chop Plush:  Another really cute plush!  Lamb Chop is soft and also contains a squeaker.  For some reason, Fenrir seems to like lamb toys.  He has another one that he stole from Kitsune and, since he liked that lamb so much, I gave him Lamb Chop too.  The plush is small but works well for a small dog like Fen!  Now if only I could watch him play with it without getting "The Song that Doesn't End" stuck in my head...
Just a quick note - Pooch Perks does send us toys (this month the emoji plush and Lamb Chop) that are made in China.  I know that's something that some pet owners look out for.  The treats we got are made in the US!  If the toys being made in China bothers you Pooch Perks has a Patriotic Pooch box option.  Each Patriotic Pooch box contains 5 or 6 products that are made in the USA.
If you haven't gotten your pup a Valentine's Day gift yet, check out Pooch Perks!  If you haven't ordered from them before, you can use the coupon code "PawPrintPet" to get 25% off your first order!  Pet subscription boxes are not only fun for pets, but for the people who love them as well.  Why not gift a box to the pet lover in your life?  I have almost as much fun as my dogs do opening our box each month.
**We received our Pooch Perks box for free in exchange for our honest review.  As always, we only post products that we feel our readers will be interested in.  All opinions expressed are our own. **